One of my favorite set of tables in the house is this little set of nested tables near my back porch.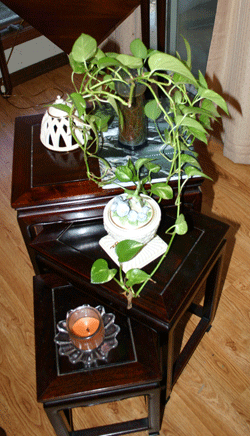 This table holds a few of my favorite things to have on hand. A book on birdwatching, a scented candle, a pretty Lenox music box (the lid on top and the musical part on the middle table) It has a hummingbird sipping from a morning glory and it plays Vivaldi's Allegro from The Four Seasons.
I also keep a pair of binoculars and my camera nearby, to catch a few bird pics.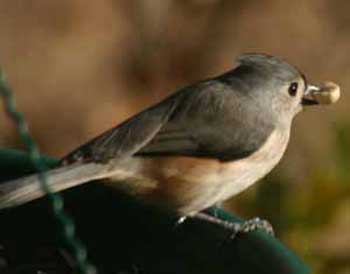 The birds have certainly been plentiful this winter. LOVE to watch them!
What would be yummy to have cooking on the stove while I'm watching the birds?
Today's Lagniappe: Creole Shrimp and Grits
This will cure what ails ya!
2  pounds  unpeeled, medium-size raw shrimp (26/30 count)
1/4  cup  vegetable oil
1/3  cup  all-purpose flour
1  medium onion, finely chopped
2  celery ribs, chopped
1  medium-size green bell pepper, chopped
2  garlic cloves, chopped
1  (6-oz.) can tomato paste
1  bay leaf
2  teaspoons  Creole seasoning
2  teaspoon  lemon juice
1  teaspoon  Worcestershire sauce
2 1/2  cups  milk
1  teaspoon  salt
1 1/2  cups  uncooked quick-cooking grits
1. Peel shrimp, reserving shells; devein shrimp. Bring shells and 4 cups water to a boil in a medium saucepan over medium-high heat; reduce heat to low, and cook 20 minutes. Pour shrimp broth through a colander over a large bowl, pressing shells with back of a spoon; discard shells.
2. Heat oil in a Dutch oven over medium heat; stir in flour, and cook, stirring constantly, until flour is caramel colored (about 8 to 10 minutes). Add onion and next 3 ingredients, and cook, stirring often, 5 to 7 minutes or until tender. Stir in 2 cups shrimp broth, tomato paste, and next 4 ingredients. Reduce heat to low, and cook, stirring occasionally, 45 minutes. Add shrimp, and cook 10 minutes, stirring in 1/4 to 1/2 cup remaining shrimp broth to reach desired consistency.
3. Meanwhile, bring milk, 2 1/2 cups water, and salt to a boil in a saucepan over high heat. Gradually stir in grits. Reduce heat to low, and simmer, stirring occasionally, 10 to 12 minutes or until thickened. Serve Creole Shrimp over grits.
Join these blogs for some great inspiration this week!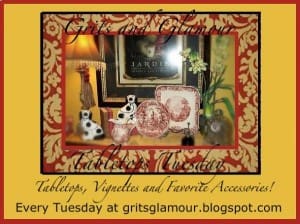 Balancing Beauty and Bedlam's Tasty Tuesday
Blessed with Grace's Tempt My Tummy Tuesday