It isn't just cold, it is freezing! My neighbor flies his flag every day. Here it was this morning in the COLD winter wind: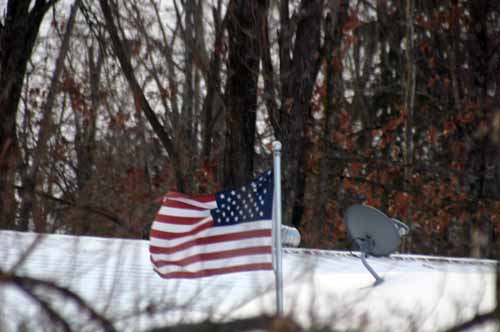 Okay, so let's warm up with some food for:
One of my favorite sources for recipes is emerils.com. Everything I have ever eaten at his restaurants has been fabulous and I love trying to recreate some of his wonderful recipes at home. I also have most of his cookbooks. I love his Andoullie Crusted Texas Red Fish and if I had a source for red fish I would probably make it often. However, red fish is kind of hard to come by here in my part of Arkansas. But, there are some things I can make.
Creole Spiced Shrimp with Old Fashioned Remaulade
2 lemons, halved
4 quarts water
4 bay leaves
3 teaspoons salt
1/2 teaspoon cayenne
2 tablespoons Zatarain's Concentrated Crab and Shrimp Boil
3 pounds large shrimp, peeled and deveined
1/4† cup fresh lemon juice
3/4† cup vegetable oil
1/2 cup chopped onions
1/2 cup chopped green onions
1/4 cup chopped celery
2 tablespoons prepared horseradish
3 tablespoons Creole or whole-grain mustard
3 tablespoons prepared yellow mustard
3 tablespoons chopped parsley
1 teaspoon salt
1/4 teaspoon cayenne pepper
1/8 teaspoon freshly ground black pepper
3 tablespoons ketchup
Squeeze the juice from the lemons into a large pot.†Add the halves.†Add the water, bay leaves, salt cayenne, and crab boil.†Bring to boil and cook for 5 minutes. Add the shrimp. Remove from the heat, cover, and let stand for 4 to 5 minutes.†Drain.†Serve either cooled or chilled completely. Combine the remaining ingredients in a food processor with a metal blade and process for 30 seconds. Use immediately or store.†Will keep for several days in an airtight container in the refrigerator.
Yield: 4 to 6 servings
Nothing like some good shrimp to warm me up and put me in a Summer-y mood! Okay, off to watch the BCS Championship Game!
Today's Lagniappe:  Emeril's Rum Cream Caramel
Okay, let's follow up that shrimp with another of Emeril's great recipes!
1 1/4 cups sugar
1/4 cup water
1/2 teaspoon fresh lemon juice
1 cup heavy cream
1 cup whole milk
3 large eggs
2 tablespoons dark rum
Diced pineapple and pink grapefruit segments, caramelized with brown sugar, for garnish
Instructions
In a medium heavy saucepan, combine 3/4 cup of the sugar with the water and lemon juice and bring to a simmer over low heat, stirring occasionally until the sugar dissolves. Bring to a boil and cook without stirring, swirling the pan occasionally, until the syrup caramelizes and turns a deep golden color, 7 to 10 minutes. Very carefully pour the mixture into 6 (1-cup) ramekins and swirl to evenly coat the bottoms. Set aside.
Preheat the oven to 350 degrees F.
In a medium saucepan, bring the cream and milk to a simmer. Remove from the heat.
In a medium bowl, whisk together the eggs and remaining 1/2 cup sugar until frothy and lemon colored, 2 to 3 minutes. Whisking constantly, slowly add the hot cream mixture to the eggs. Whisk in the rum. Strain through a fine mesh strainer into a large glass measuring cup or bowl, and divide among the ramekins.
Place the ramekins in a large roasting pan and place on the middle rack of the oven. Carefully fill the roasting pan with hot water to come halfway up the sides of the ramekins. Bake until the custards are just set and a knife inserted into the center comes out clean, about 30 minutes.
Carefully remove from the oven. Transfer the custards to a wire rack to cool, then refrigerate and chill completely before serving, 4 hours or overnight.
To serve, run a thin sharp knife around the custards to loosen and invert onto dessert plates. Shake gently to release onto the plates. Garnish with the caramelized pineapple and pink grapefruit and serve.
Yield: 6 servings