Southern Sunday Lunch
Submitted by Christi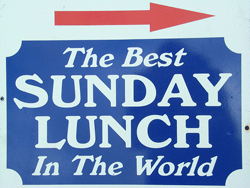 I remember Sunday lunches when I was growing up fondly. When we got home from church we would set the table with the good china and all gather round the table. Often, we would have company and spend 2 or 3 hours at the table visiting.
I remember one occasion when my mother had put a roast in the oven before church. When we got home, she had a migraine headache so we were going to just have a low key lunch so she could rest. As it happened, there was a mix up in dates and one of the ministers from the church and his wife thought they were invited for lunch that Sunday and, of course, showed up ready to eat. My poor mother, got us to set the table and she went ahead and presented a lovely meal with a smile (even though she felt terrible).
I'm not sure how my mother managed. She often didn't know how many would actually show up but there was always plenty of food for everyone served with grace and beautiful Southern hospitality. I always appreciated how everyone always felt welcome in our home. I hope people feel as welcome in my own home as my mother made them feel in hers.
Todays Lagniappe: Mama's Sunday Roast
Place a 3 to 5 lb. roast in a roasting pan and season with salt and pepper.
Mix together cream of mushroom soup, 1 pkg. of Campbell's beefy onion soup mix and a can of beef consumme.  Pour over roast.
Put roast in 325 degree F. oven and roast for 2 to 3 hours.
Place potatoes that have been quartered or cut into 8ths and carrot chunks into pan around the roast after the roast has cooked for 2 hours or so.
Raise oven temperature to 35o degrees F. and cook for an additional 30 to 40 minutes until vegetables are soft.
Remove roast and vegetables from pan and make a gravy with the pan drippings. Serve roast and vegetables with hot rolls, a green vegetable and a smile.
Tags: Etiquette, Southern Entertaining, Southern Food, Southern Recipe
2 Responses to "Southern Sunday Lunch"
Leave a Reply