Southern Daddy Comments
Submitted by Christi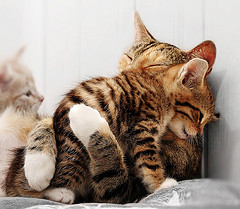 I have enjoyed so much reading comments and emails about the Southern Daddy-isms post. It is amazing to me how many lives my Daddy's life touched. I believe he touched so many lives because he cared about people. I remember when he was in the hospital before he died, telling me how it is important that people know you care about them.
I have taught etiquette classes about what fork to use and how to introduce people but I think that what Daddy said is probably the essence of grace and good manners – care about people. I continue to be amazed at how blessed I am to have the people in my life that I have and have had.
I think the caring aspect is what "Southern Hospitality" is all about. A smile and a wave to a stranger in passing, showing up with a casserole in times of trouble, making people feel welcome in our homes.
Here is a Southern challenge for you: show kindness to at least one stranger a day for one week.
Today's Lagniappe:  My Favorite Banana Nut Bread
1 cup sugar
1/2 cup butter, softened
2 eggs
2 cups flour
1 teaspoon soda
1/2 teaspoon cinnamon
1/2 teaspoon cloves
3 mashed bananas
1/2 cup chopped pecans
Cream sugar and butter, add eggs, beat well. Sift in flour, soda, cinnamon and cloves, beat well. Mix in bananas and nuts. Pour into greased loaf pan. Bake 1 hour at 325 degrees.
Great with a hot cup of coffee!
Tags: family, Living, manners, Southern Etiquette
2 Responses to "Southern Daddy Comments"
Leave a Reply