This is my first time joining the Blue Monday posts at Smiling Sally's. Can't wait to see what everybody is doing this Monday.
In honor of Memorial Day, today, I am posting Navy Blue.

Specifically U. S. Navy blue.
I want to tell you about my father-in-law, Dr. Joe B. Wharton Jr. Dr. Joe B., as he was known, was a Navy doctor during World War II. He served in the South Pacific. One of our treasures is the letters that he and my mother-in-law, Iola Holt Wharton, exchanged during his service in the South Pacific.
During Dr. Joe B.'s service, John F. Kennedy was injured on PT109. Dr. Joe B. was the doctor who attended him. John F. Kennedy and Dr. Joe B. had become friends before Mr. Kennedy's injury and continued corresponding for many years after the war.
In 1961 The Saturday Evening Post wrote an article about John F. Kennedy's adventures during the war. They ran the picture below.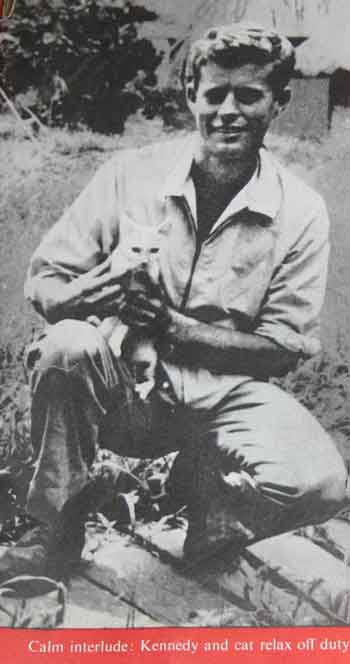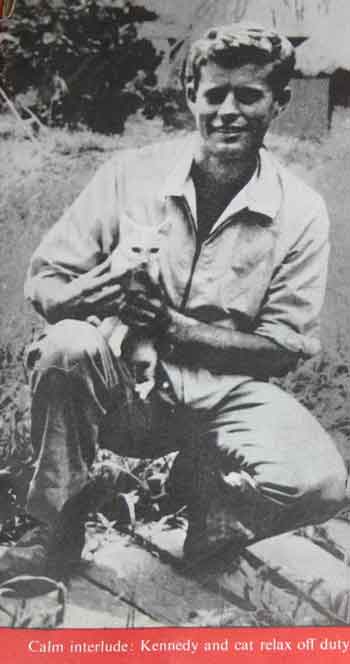 Below is the full picture.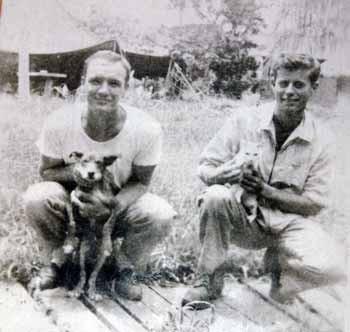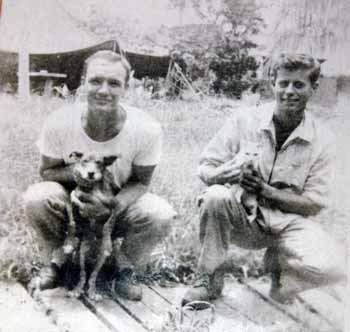 That is Dr. Joe B. on the left with John F. Kennedy. The dog had been adopted by JFK and the cat had been adopted by Dr. Joe B. As you can see, they were holding the pet that belonged to the other in the picture. The Saturday Evening Post contacted Dr. Joe B. for permission to use the picture with him in it. At that time, Dr. Wharton had a busy medical practice in El Dorado, Arkansas and never got around to getting back to them with permission to run the picture with him. They cropped him out and ran the picture without him.
There are several letters of correspondence between Dr. Joe B. and JFK during JFK's presidency. These are archieved at the JFK Presidential Library.
On Memorial Day, we remember. This is just a small story from World War II that I wanted to share with you.
Hope you are all having a wonderful Memorial Day. Don't forget to take time to honor those who have and continue to keep us safe!
Today's Lagniappe: Red, White and Blue Salad
* 1 package (3 ounces) berry blue gelatin
* 2 cups boiling water, divided
* 2-1/2 cups cold water, divided
* 1 cup fresh blueberries
* 1 envelope unflavored gelatin
* 1 cup heavy whipping cream
* 6 tablespoons sugar
* 2 cups (16 ounces) sour cream
* 1 teaspoon vanilla extract
* 1 package (3 ounces) raspberry gelatin
* 1 cup fresh raspberries
* Whipped topping and additional berries, optional
Directions:
In a large bowl, dissolve berry blue gelatin in 1 cup boiling water; stir in 1 cup cold water. Add blueberries. Pour into a 3-qt. serving bowl. Refrigerate until firm, about 1 hour.
Meanwhile, in a saucepan, sprinkle unflavored gelatin over 1/2 cup cold water; let stand for 1 minute. Add the cream and sugar; cook and stir over low heat until gelatin and sugar are completely dissolved. cool to room temperature. Whisk in sour cream and vanilla. Spoon over the blue layer. Refrigerate until firm.
In a large bowl, dissolve raspberry gelatin in remaining hot water; stir in remaining cold water. Add raspberries. Spoon over cream layer. Chill until set. Garnish with whipped topping and additional berries if desired. Yield: 14-16 servings.