Southern Repeat
Submitted by Christi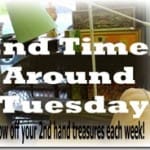 I ran this recipe for Lemon Thyme cookies last Friday. I was a little late about getting it up so I am posting it again. I made these lovely little cookies with thyme from my garden and I absolutely loved them. I think they may be one of the best cookie recipes I have tried. This is my 2nd time around entry because I wanted to give these cookies a 2nd chance.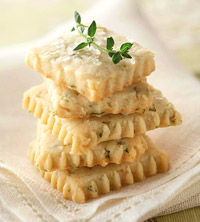 Lemon Thyme Cookies
I didn't have any cardamom so I just left it out and they were delicious.
* 1/2 cup butter, softened
* 1/4 cup granulated sugar
* 1 tablespoon snipped fresh thyme
* 2 teaspoons finely shredded lemon peel
* 1 tablespoon lemon juice
* 1/4 teaspoon ground cardamom
* 1-1/4 cups all-purpose flour
* Coarse sugar or granulated sugar
Directions
1. Preheat oven to 350F. Beat the butter in a medium mixing bowl with an electric mixer on medium to high speed for 30 seconds. Add 1/4 cup granulated sugar until combined. Beat until combined, scraping sides of bowl occasionally. Beat in thyme, lemon peel, lemon juice, and cardamom. Beat in as much of the flour as you can with the mixer. Stir in any remaining flour with a wooden spoon. Knead until smooth; form mixture into a ball.
2. Divide dough into three equal portions. Roll each portion into a 6×4 1/2-inch rectangle (about 1/4 inch thick) on a lightly floured surface. Cut dough into 1 1/2-inch squares with a scalloped-edge pastry wheel. Sprinkle cutouts with coarse sugar. Place cutouts on ungreased cookie sheets.
3. Bake in preheated oven for 12 to 15 minutes or until edges are just lightly brown. Transfer to wire racks and let cool. Makes 36 cookies.
4. To store: Place cookies in layers separated by pieces of waxed paper in an airtight container; cover. Store at room temperature for up to 3 days or freeze for up to 3 months. Thaw cookies, if frozen, before serving.
Hope you enjoy these. We had them over the Memorial Day weekend. We had a wonderful time. My mother and her husband were here and we had a great visit. Hope all of you had a great weekend and that you week will be just wonderful.
Today's Lagniappe: Margarita Cheesecake
This is great on a warm evening. I decorate with lime slices and a gummy worm.
For the crust:
4 ounces salted pretzels
1/3 cup sugar
4 tablespoons unsalted butter, melted, plus more for baking pan
For the filling:
3 8 oz. packages cream cheese, softened
1 cup sour cream
¾ cup sugar
2 tablespoons Grand Marnier or Triple Sec
1 tablespoon tequila
1 tablespoon grated lime zest
4 large eggs
1. Preheat oven to 375° with rack in center. Make the crust: Butter a 9 1/2 inch springform pan; set aside. In a food processor, pulse pretzels to fine crumbs. Add sugar and butter; process until combined.
2. Press evenly into bottom and slightly up sides (about 1 inch) of the springform pan. Place on a baking sheet. Bake until light golden brown, 5 to 7 minutes. Set aside to cool.
3. Reduce oven to 325°. Prepare filling: In the bowl of an electric mixer fitted with the paddle attachment, beat cream cheese until light and fluffy, scraping down sides of bowl to eliminate any lumps, about 1 minute. Add sour cream, sugar, Grand Marnier, tequila, and lime zest; beat until smooth. Add eggs, one at a time, beating to combine after each addition.
4. Pour into cooled crust (filling will come up higher than crust.) Line outside of pan with aluminum foil (to prevent water from seeping in). Place in a roasting pan. Pour hot water to come halfway up sides of springform pan. Bake until set and slightly firm to the touch, about 1 hour. Remove from water bath, and let cool on a wire rack; refrigerate until chilled, about 4 hours. Run a hot knife around edge of pan to release.
Tags: Southern Recipes
4 Responses to "Southern Repeat"
Leave a Reply