Southern Robin Update
Submitted by Christi
It's Outdoor Wednesday again with A Southern Daydreamer and that means it is time for a robin update!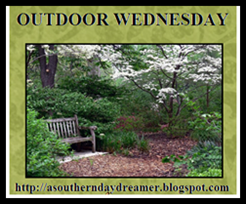 They are growing so fast!
They will be gone soon. I'm going to miss them.
Today's Lagniappe: Banana Split Pie
Step 1:
2 cups vanilla wafer crumbs
1 stick melted butter
Mix and pat into 9″ x 13″ pan
Step 2:
1 stick melted butter
2 cups confectioners' sugar
8 oz. cream cheese, softened
Mix well and spread on crumb crust
Step 3:
1 small instant vanilla pudding (mixed by pkg. directions)
Spread on top of Step 2.
Top with sliced bananas, 1 can crushed pineapple, drained, then spread 1 8
oz. Cool Whip on top. You can drizzle with chocolate syrup, sprinkle with
coconut and chopped maraschino cherries, nuts.
Tags: Southern Robin
36 Responses to "Southern Robin Update"
Leave a Reply