Southern Robin Update
Submitted by Christi
As you may recall, last Wednesday, I posted pics of our little robin in her nest. At that time she had two eggs. Since then, she has laid two more eggs for a total of four! She is a very good mother. She runs off Blue Jays that get too near and is always on the watch for danger. She doesn't seem to mind us. She is not real happy when we take pictures of her little eggs when she is out of the nest, but she poses very prettily for us when she is in the nest.
Won't be long until we have little baby robins!
Enjoy the other outdoor pics with A Southern Daydreamer's Outdoor Wednesday.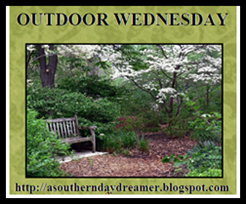 Today's Lagniappe: Fried Olives
I love olives and this is a great little bite!
I've seen recipes with the olives stuffed with blue cheese, ham, garlic, cream cheese mixtures and more. They can be filled with a pastry bag fitted with a small tip. Just fill them however you like, bread them and then fry them.
1/2 cup all-purpose flour
1 large egg, lightly beaten
1/2 cup finely ground breadcrumbs or panko
olive oil (for frying)
Heat about half an inch of olive oil in a large, heavy skillet over medium heat.
Roll the olives in the flour, then, in the egg, then, in the bread crumbs. Fry the olives in batches until golden brown. Drain on paper towels.
Tags: Southern Robin on the Porch
33 Responses to "Southern Robin Update"
Leave a Reply