Southern Sunday Favorite
Submitted by Christi
Today, I'm joining our friend Chari at Happy to Design for Sunday Favorites whre we get to share a favorite past post. I love this. Thank you Chari for the great idea!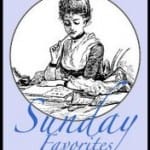 So here it is. I always have enjoyed sharing with y'all about people I love. Here is one of my favorites:
Southern Mama-isms
A Southern Mother is something very special. They have the job of raising a good Southern girl. My Mother had several pieces of advise, or sayings, if you will, that are good for anyone. I call them Mama-isms.
You can catch more flies with honey than you can with vinegar.
If you can't say anything nice, don't say anything at all.
Sit up straight.
Put on your red badge of courage (meaning lipstick).
Set the table (something done every night with placemat, knife, fork, spoon, plate and glass – each in it's proper place.)
Walk like a lady.
Never wake a sleeping child.
How's your attitude? (Getting a good parking place anywhere, depends on your attitude!).
Pretty is, is pretty does.
All you can do is all you can do.
Consider the source and go on. (or as her mother – my grandmother put it: Pass and re-pass).
Smile and make people wonder what you've been up to (when you were frowning).
If your lip gets any lower you'll step on it (when you were pouting)
If you don't  watch out your face will freeze that way (when your face was anything but pleasant).
If you don't stop crying, I'll give you something to cry about!
There were many more. What did your Mama tell you?
Today's Lagniappe: Recipe for Spicy Shrimp and Rice
2 lbs. unpeeled medium sized fresh shrimp
3 cups cooked long grain and wild rice mix (1 box Uncle Ben's original   recipe with 23 herbs & seasonings)
1 cup shredded sharp cheddar cheese
1 (10-3/4 oz.) can cream of mushroom soup, undiluted
1 tablespoon butter
1/2 cup chopped green onions
2 teaspoons Worcestershire sauce
1/2 teaspoon dry mustard
1/2 teaspoon ground black pepper
few dashes of Tobasco (to taste)
Cajun seasoning – around 1 teaspoon or more if you want more spice)
Melt butter over medium-high heat and add green onions; cook, stirring constantly, until tender
Combine all ingredients and spoon into a lightly greased 2 quart baking dish.
Bake at 375 degrees F. for 55 minutes.
Serve with crusty french bread, green salad and crisp white wine.
P. S. : Mama emailed me one that I left out that is important – Remember who you are and Whose you are.
Tags: Southern Family
8 Responses to "Southern Sunday Favorite"
Leave a Reply