Southern Visit
Submitted by Christi
Sorry to be so late posting this morning. I had an early morning appointment with the eye doctor.
I'm getting ready for a visit from Mama and her husband Chester. We are really, really looking forward to seeing them and spending some time relaxing and having fun.
When they visit we always have a very competitive spades game. Girls against the boys. We may actually try to go fishing this time if the weather holds out. I'm don't get that excited about actually catching a fish but I love being out on the river just casting a line. The water and sun and beauty are always so refreshing and restoring.
I hope all of you have a wonderful weekend. I look forward to seeing you next week. Next week will be a special week of posts to honor Veterans in honor of Memorial Day. Hope y'all can join me for some great stories.
For now, I've get to get some baking done in preparation for the weekend!
Today's Lagniappe: Lemon Thyme Cookies
This is one of the things I'm making for the weekend.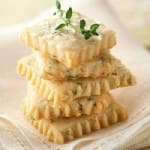 * 1/2 cup butter, softened
* 1/4 cup granulated sugar
* 1 tablespoon snipped fresh thyme
* 2 teaspoons finely shredded lemon peel
* 1 tablespoon lemon juice
* 1/4 teaspoon ground cardamom
* 1-1/4 cups all-purpose flour
* Coarse sugar or granulated sugar
Directions
1. Preheat oven to 350F. Beat the butter in a medium mixing bowl with an electric mixer on medium to high speed for 30 seconds. Add 1/4 cup granulated sugar until combined. Beat until combined, scraping sides of bowl occasionally. Beat in thyme, lemon peel, lemon juice, and cardamom. Beat in as much of the flour as you can with the mixer. Stir in any remaining flour with a wooden spoon. Knead until smooth; form mixture into a ball.
2. Divide dough into three equal portions. Roll each portion into a 6×4 1/2-inch rectangle (about 1/4 inch thick) on a lightly floured surface. Cut dough into 1 1/2-inch squares with a scalloped-edge pastry wheel. Sprinkle cutouts with coarse sugar. Place cutouts on ungreased cookie sheets.
3. Bake in preheated oven for 12 to 15 minutes or until edges are just lightly brown. Transfer to wire racks and let cool. Makes 36 cookies.
4. To store: Place cookies in layers separated by pieces of waxed paper in an airtight container; cover. Store at room temperature for up to 3 days or freeze for up to 3 months. Thaw cookies, if frozen, before serving.
See other great recipes at Foodie Friday with Designs by Gollum.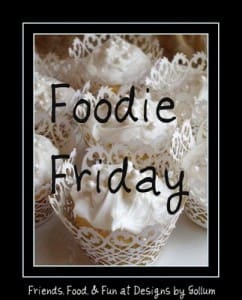 Tags: Southern Family
One Response to "Southern Visit"
Leave a Reply