Southern Blueberries
Submitted by Christi
It's a three for one Tuesday. Check out the fun blogs with great recipes and ideas that we are joining with today at the end of this post!
I went to the farmer's market recently and ran across these beauties: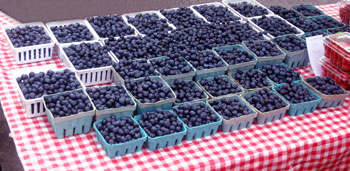 These were grown locally and looked and tasted wonderful. Blueberries are known as a "super food" because of their outstanding antioxidant qualities. I ate a lot of them just plain, which, seems to be a good way of getting all that good for you stuff in you. Of course, another way is to bake them in a recipe (more on that to come).
I learned from my Daddy to ask where produce comes from at the farmer's market. The vendor next to these lovely blueberries had some strawberries. I asked where they were from and the vendor admitted that she had purchased them at a grocery store and had extra that she brought to sell at the market. They were not grown anywhere near here.
Now, don't get me wrong. Just because something isn't local doesn't mean it is not good. However, during the summer months when fresh local produce is abundant, I like to support our local farmers. I bought some local tomatoes from the strawberry lady, but, not the strawberries. My rule of thumb at the farmer's market is to always ask!
Okay, back to baking those blueberries in a recipe. That brings me to . . .
.

Today's Lagniappe: Blueberry Shortcake
A delicious way to use this delicious berry.
Biscuits:
2 cups all-purpose flour
1 tablespoon baking powder
1/2 teaspoon salt
3 tablespoons sugar
1 stick butter, chilled
2/3 to 3/4 cup half and half, milk, or cream
Filling:
1 quart blueberries
1/3 cup sugar
1 1/2 cups whipping cream for topping, or non-dairy whipped topping
Preparation:
Rinse the berries under cold water; drain well. Sprinkle with the sugar, if desired; cover and let stand at room temperature for about 1 hour. Whip the cream (sweeten with 2 or 3 tablespoons of sugar, if desired) until it holds a soft peak. Cover and refrigerate until ready to serve.Preheat the oven to 425 degrees. Set rack at center level.
In a food processor (you can use a pastry cutter or fingertips) combine the flour, baking powder, salt and sugar and pulse to mix. Cut butter into about 8 pieces and add to the mixture. Pulse until the mixture resembles coarse meal, but with few pea-size chunks of butter left in the mixture. Transfer the mixture to a large bowl and make a well in the center. With a fork stir in the cream or milk, just until dough is moist. Be very careful not to overwork. The dough doesn't have to hold together well at this point. Let the dough stand for a minute. Turn the dough out onto a lightly floured surface. Fold the dough over on itself (knead) 2 or 3 times, until it is holding together and is less sticky.
Gently pat the dough into a 6 by 12-inch rectangle about 3/4-inch thick and cut into 8 (3-inch) biscuits with a floured round cutter. Transfer to a buttered foil-lined cookie sheet. Brush on a little milk or cream and sprinkle tops with some sugar, if desired. Bake for 10 to 15 minutes, until risen and golden brown. Remove to a platter and split each biscuit horizontally with a serrated knife. Butter the hot buscuits then top with about 1/3 cup of berry mixture. Replace the tops and top with a tablespoon or so of berries. Serve with whipped cream for topping.
Serves 8.
It's a three-for Tuesday! Join these great blogs for more recipes and great ideas.
Balancing Beauty and Bedlam's Tasty Tuesday
Blessed with Grace's Tempt My Tummy Tuesday
The Gypsy's Corner's Three or More Tuesday
Tags: Southern Food
17 Responses to "Southern Blueberries"
Leave a Reply