Southern Sandwich
Submitted by Christi
Nothing fancy today. I was inspired by this beautiful Arkansas tomato and the basil growing in my garden.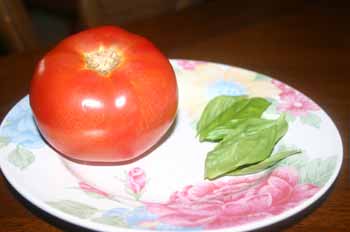 I toasted some thin white bread and added some good mayo and a couple of slices of avocado (since I had it I may as well use it!) and voila!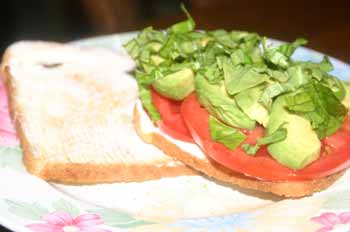 A tasty little lunch! Added some cold iced tea and I was set. I love summer tomatoes! Anytime I can use tomatoes and basil that I have grown myself, it just really makes me happy. Am I strange because a tomato can make me happy?
See some really great recipes today on Foodie Friday with Designs by Gollum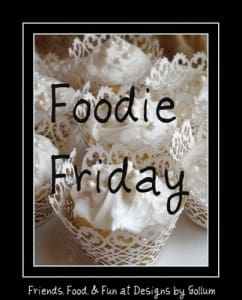 .
Today's Lagniappe:  Fresh Strawberry Ice Cream
With the hot weather we are having, ice cream really sounds good.
1 quart fresh strawberries, washed, stemmed and quartered
1 1/2 cups granulated sugar
4 cups half-and-half
1 cup sugar
1 teaspoon vanilla
6 egg yolks
In a food processor or blender, combine the strawberries and 1/2 cup of the sugar. Process until smooth.
In a saucepan, over medium heat, combine the half-and-half and sugar and vanilla.  Bring to a simmer.
In a small mixing bowl, whisk the egg yolks until smooth. Add 1 cup of the hot liquid to the egg yolks and whisk until smooth.
Add the egg yolk mixture to the saucepan of liquid and whisk until blended.
Bring the liquid back to simmer and continue to cook for 4 to 6 minutes.
Remove from the heat and stir in the strawberries. Whisk until smooth. Pour the mixture into a glass bowl and place a piece of plastic wrap directly on top of the mixture. This will prevent a skin from forming while cooling.
Cool the mixture completely. Process the mixture according the ice cream machine instructions.
Tags: Southern Food
12 Responses to "Southern Sandwich"
Leave a Reply