Southern Mimosa
Submitted by Christi
After all the great breakfast recipe lagniappes this week, I thought we needed to have something to drink with it. On special occasions, a Mimosa is the special touch to a wonderful brunch.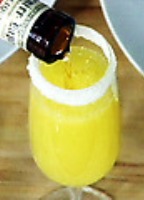 My husband tells me about Sundays as a kid, his father, Dr. Joe B. Wharton, would sometimes take him on rounds at the hospital and then they would attend St. Mary's Episcopal Church in El Dorado, Arkansas. My husband's god-mother lived across the street from the church. Often, after church they would go to his god-mother's home, and they would have Mimosas and Brandy-Milk Punches (the adults, not the kids!). The kids would all run around and play and have a great time.
I grew up in a Baptist home where we had a Sunday lunch after church. No mimosas at our house! I love the line in the book "Being Dead is No Excuse" by Gaydon Metcalf where she explains that Methodists are Baptists that want to be Episcopalians.
Anyway, we really enjoy a brunch Mimosa on special occasions. Here is how I make them.
Pour a little Gran Marnier in a saucer. Pour a little sugar in another saucer. Dip the rim of a champagne glass in the Gran Marnier and then the suger. Pour the glass half full of brut champagne (or sparkling wine) and then finish with orange juice. You  can add a splash of Gran Marnier, if you like. Personally, it makes it a little too sweet for me.
What a relaxing and wonderful drink to have with a fabulous breakfast. Check out the earlier posts this week for the rest of the breakfast recipes including Linda's Spicy Egg Casserole, Buttermilk biscuits, strawberry freezer jam and a delicious blueberry coffee cake.
Let's see, what is the next special occasion? Labor Day? Oh, wait my older sister's birthday is this weekend! Happy Birthday Tammy. Here's to you!
Today's Lagniappe: Garlic Cheese Grits
It's a flashback to last March when I first added this recipe to the Lagniappe lineup. What better to have with the perfect breakfast?
6 cups water
2 teaspoons salt
1 1/2 cups grits
1/2 cup butter
3 eggs, well beaten
16 ounces shredded sharp Cheddar cheese
2 to 3 cloves garlic, finely minced
cayenne pepper to taste
Bring water and salt to a rolling boil; gradually stir in grits with fork. Cook, stirring constantly, until all water is absorbed. Stir in butter a tablespoon at a time; stir in the beaten eggs, working quickly so eggs will not cook before thoroughly blended into the grits, then stir in the shredded cheese, garlic and a little cayenne pepper. Put into a greased 2 1/2-quart casserole. Bake at 350° for 1 hour and 15 to 20 minutes.
Serves 8.
14 Responses to "Southern Mimosa"
Leave a Reply