Southern Bacon
Submitted by Christi
Who doesn't love bacon? I know I do. It is a good thing. My husband is a bacon expert. He knows how to pick it out and he knows how to fry it. His bacon expertise may only be surpassed by his french fry expertise!
So, what to do with bacon? Here are a couple of ideas:
Bacon Chile Cheese Grits
3 cups water
1 teaspoon salt
1 clove garlic, minced
1 cup quick-cooking grits
1/4 cup butter, at room temperature
1-1/2 cups Longhorn cheese, grated (about 6 ounces)
4-1/2-ounce can chopped green chiles
2 eggs
1/2 cup milk
freshly ground black pepper, to taste
10 slices of bacon, cooked and crumbled
Preheat oven to 350°F.
Bring the water to a boil, and add the salt and garlic. Slowly stir in the grits, and continue stirring for 4 or 5 minutes, or until thickened. Remove from heat.
Add the butter, 1 cup of the cheese and green chiles, stirring until butter is completely melted. Beat the eggs with the milk, add to the mixture and mix well. Add 4 slices of crumbled bacon.
Pour into a greased 2-quart baking dish and bake, uncovered, in preheated oven for 45 minutes. Sprinkle with the remaining cheese and crumbled bacon. Makes 6 servings.
Or how about this:
Blue Cheese Stuffed, Bacon Wrapped Figs
Cut a slit in the side of the dried figs
Fill the fig with a little of your favorite blue cheese
Wrap the fig with 1/3 slice of bacon
Broil the figs, turning as needed until the bacon is crisp.
Bacon is very versatile, isn't it?
Join Gollum at Designs by Gollum for Foodie Friday and a lot of recipe swapping fun!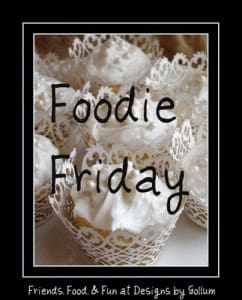 Today's Lagniappe: Bacon Cheese Puff
Thaw out a sheet of frozen puff pastry. Lay slices of bacon on top of the pastry sheet. Spread shredded parmesan cheese (or cheese of your choice) on top of the bacon. Roll up the pastry, bacon and cheese. Slice the pastry inton 1 inch slices. Bake at 400 for 20 – 30 minutes or until golden brown.
13 Responses to "Southern Bacon"
Leave a Reply