Southern Magnolia
Submitted by Christi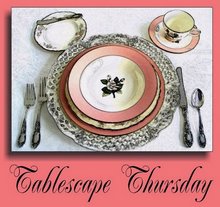 Today's edition of Tablescape Thursday (hosted by Susan at Between Naps on the Porch) starts with a poem:
SOUTHERN LIFE
If you want a glimpse of Southern life,
Come close and walk with me
I'll tell you all the simple things
That you are sure to see
You'll see mockingbirds and bumblebees
Magnolia blossoms and dogwood trees
Caterpillars on the step
Wooden porches cleanly swept
Watermelons on the vine
Strong majestic Georgia pines
Rocking chairs and front yard swings
Junebugs flying on a string;
Turnip greens and hot cornbread,
Coleslaw and barbecue;
Fried okra, fried corn, fried green tomatoes
Fried pies and pickles, too.
There's ice cold tea that's syrupy sweet,
And cool,green grass beneath your feet;
Catfish nipping in the lake,
And fresh young boys on the make.
You'll see all these things
And much, much more,
In a way of life that I adore.
Copyright 2008 Patricia Neely-Dorsey
This is just one of the many great poems by Patricial Neely-Dorsy in her beautiful book Reflections of a Mississippi Magnolia – A Life in Poems.  On her website, Patricia explains:
My book Reflections of a Mississippi Magnolia is a true celebration of the  south and things southern. Using childhood memories, personal thoughts and dreams, I attempt to give a positive glimpse into the southern way of life. There are so many negative connotations   associated with Mississippi and the south in general. I want to show a flip side of the coin.There is much to love about this much maligned and misunderstood part of our country. I would really love for you to get to KNOW Mississippi (and the south) in a different light and I want to introduce you. I invite you to Meet Mississippi Through Poetry, Prose and the written word.
I was planning on reading her book over the weekend last week. Instead, I started looking through it on Friday night and the next thing I knew, I had read the entire book of poems! There are many things that I could relate to in her book of poems. And, many I could not, like the poems about hogs on the farm (I was raised in the city), but, I have heard similar stories from friends who were raised on farms. Her poem Right to Vote is moving and beautiful. Through all of her poems, you get to know Patricia, and by the end, you feel like you have a new friend.
Patricia's book is available here:
In honor of Patricia's beautiful book, today's tablescape is called Moonlight and Magnolias.
First thing I had to do was go visit my neighbors, Mike and Sandy to see if I could cut some leaves and blooms from their magnolia tree. They very graciously agreed.
Next thing I needed was moonlight. Oh, it just happens to be a full moon tonight. If only the clouds will stay away!
Today's Lagniappe: Magnolia Milk Punch
Perfect for a Sunday brunch.
Ingredient
1/4 cup Bourbon Whiskey
1 tsp Vanilla
1 cup Vanilla Ice Cream
4 parts Nutmeg
Directions
Combine ice cream, bourbon and vanilla in a blender and process until smooth. Pour into two glasses and sprinkle with freshly grated nutmeg.
31 Responses to "Southern Magnolia"
Leave a Reply