Southern Okra Salad
Submitted by Christi
Okay, you asked for it, you've got it. Okra salad. My grandmother used to make okra salad. She would gather vegetables from her garden and then make this delicious treat.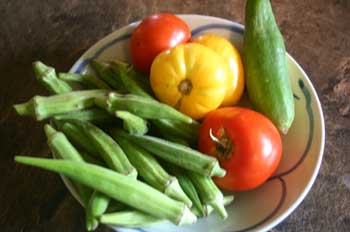 Here are some of the goodies from my garden. Okra, heirloom tomatoes (both red and yellow) and a cucumber. What is not pictured is the red onion that I will use in this recipe (didn't come from my garden).
Okra needs to be harvested while it is still tender (4″ – 6″). When it gets big, it is too tough. Cut the okra into 1/4 inch slices and then bread them in a mixture of cornmeal and flour (about 4 to 1). Fry the breaded okra in hot oil until golden. I like mine kind of crispy.
While the okra is frying, cut the tomatoes, cucumbers, and onions into chunks. Grandmother would also add bell peppers and any other goodies she had available from the garden.
Today, I made some croutons from day old French bread by cutting them in cubes, then tossing them with olive oil and a little salt, pepper and garlic powder, then baking them at 400 degrees for about 8 minutes. Cornbread croutons would also be great with this (see today's lagniappe).
Place the tomatoes, cucumbers, onions (and any other veggies you are adding) in a bowl. Add salt and pepper to taste. Add the fried okra and croutons. Dress with a classic vinaigrette or zesty Italian dressing. This can be dressed with your favorite dressing if you prefer.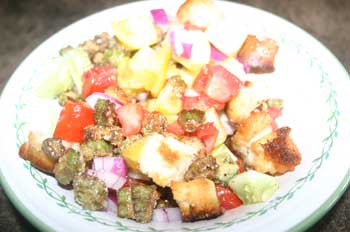 Here it is. Delicious Okra Salad!
Try this yummy okra salad, then head on over to Gollum's for some other great recipes for Foodie Friday.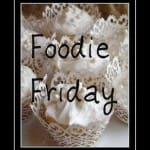 Today's Lagnipappe: Cornbread Croutons
Yummy with the okra salad.
Cut leftover cornbread (if there is such a thing) into cubes. Toss with butter and bake at 400 degrees for around 10 minutes until crunchy and toasty.
Tags: Southern Food
10 Responses to "Southern Okra Salad"
Leave a Reply