Southern Okra
Submitted by Christi
You know, you've got to watch okra. If it gets too big, it is too tough to eat. I had a couple of pods get away from me and they got a little too big.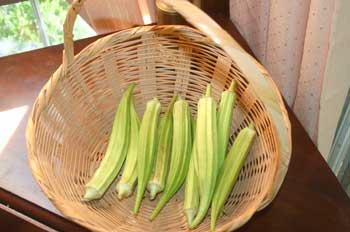 So, what to do with these over-sized pods? One thing to do, is to save them for seeds. All ready for next years crop! Another thing to do is make Christmas ornaments.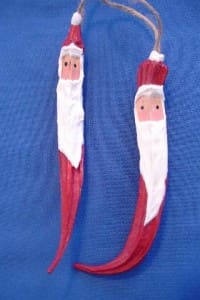 This picture is not of ornaments that I have actually made, but, are an inspiration of what I might do with some of the giant pods. I think they are an interesting way to use them. I've also seen them made into lizards. Anyway, it's a thought.
While I was gathering the okra, I noticed that my morning glories were really blooming.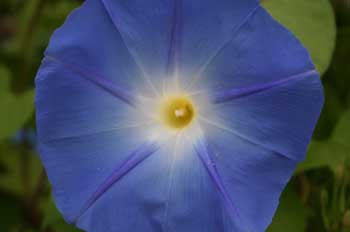 Who doesn't love to be greeted in the morning with this spectacular color of blue and the pretty yellow to white centers? Spectacular!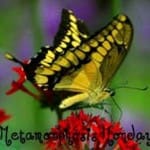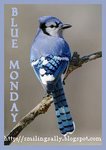 Wishing everyone a wonderful Monday and a fabulous week. Go check out Blue Monday at Smiling Sally's and Metamorphosis Monday at Between Naps on the Porch for a great way to start your week!
Today's Lagniappe (pronounced lan-yap – lagniappe=something extra): Fried Okra and Potatoes
A recipe for the ones that didn't get away from me!
1 lb young Okra pods
2 large potatoes
1 Onion
1/2 cup cornmeal
1 tbsp Salt.
2 pints ice water
oil for frying
salt and pepper for seasoning, to taste
Tip and tail the Okra pods (cut off the ends)
Cut the pods into approximately 1/4 inch rounds.
Peel and dice the potatoes into 1/2 inch pieces
Peel the onions and chop finely. Place the sliced Okra into a glass or stainless steel bowl and sprinkle the salt liberally over the pods.
Cover the pods with the iced water, making sure that all the slices are under water.
Place the bowl containing the Okra and water in a refrigerator and leave for 2 or more hours.
Remove the bowl from the refrigerator and drain off the salt water.
Place the Okra in a bowl and add the potatoes and chopped onion
Season the cornmeal with the salt and pepper
Place the sliced Okra potato and onion mixture together with the seasoned cornmeal in a large plastic bag and shake until the vegetables are well coated with the cornmeal.
Heat some oil (1/2 inch deep) in a frying pan until it begins to shimmer. Place the vegetables in the pan and fry until the potatoes are done and the mixture has browned nicely.
Remove the Okra and potato mixture from the oil, using a slotted spoon and drain on paper towels.
Serve hot as a side dish
Tags: Southern Food
15 Responses to "Southern Okra"
Leave a Reply