Southern Pesto
Submitted by Christi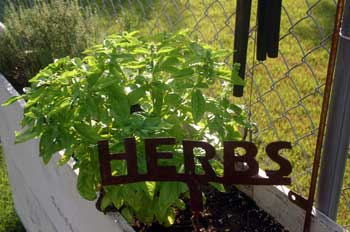 I've been showing you pictures from my garden and of my basil. Today, I went and harvested basil and made a classic basil pesto.
Classic Basil Pesto
2 cups (packed) basil leaves (cleaned and dried)
1/2 cup Parmesan or Romano cheese, finely grated
1/3 cup pine nuts (I lightly toast mine)
3 cloves garlic
1/2 cup olive oil
salt and pepper to taste
Place all the ingredients except for the olive oil in a food processor. Process the ingredients until they are well blended. Add the olive oil through the top tube of the food processor in a slow steady stream until it is all incorporated.
Place the basil in a bowl and cover it with plastic wrap touching the pesto. If you would like to freeze the pesto, place it in a freezer safe container and drizzle olive oil on top or pour into ice cube trays topping with olive oil and freeze. Pesto may be frozen up to 3 months.
Now, what am I going to do with this pesto? There are so many possibilities but here are three of my favorites:
Pesto and Pasta
Cook spaghetti in boiling water until done. While the spaghetti is cooking, fry 6 pieces of bacon. Drain and crumble bacon. In a little of the bacon grease, saute a small chopped onion. Add a can of drained, diced tomatoes, 1 cup of pesto and the bacon crumbles. Add the cooked, drained pasta to the pesto mixture and serve.
Pesto Bruschetta
Slice a loaf of French bread in half lengthwise. Spread pesto on both halves. Toast the bread halves in the oven until crispy and golden.
Pesto and Prosciutto on Puffed Pastry
Thaw a slice of puff pastry. Roll the creases out of the pastry. Spread the pesto within 1/2 inch of the boarder of the pastry. Place prosciutto (or smoked ham) slices on top of the pesto layer. Roll up the pastry starting with the long end to form a roll. Cut 1/2 inch slices off the roll and bake at 400 degrees F. for about 20 – 30 minutes until golden brown and puffed.
Okay, after writing that, I'm hungry! Happy pesto!
Today's Lagniappe: Pesto Variations
Don't have basil growing? Try some of these pesto variations. I always toast the nuts, but, you don't have to if you don't want to.
spinach and walnuts
arugula and pine nuts
parsley/thyme and walnuts
sage and walnuts
roasted red peppers and no nuts
You get the idea. There are endless possibilities!
It's a three-for Tuesday! Join these great blogs for more recipes and great ideas.
Balancing Beauty and Bedlam's Tasty Tuesday
Blessed with Grace's Tempt My Tummy Tuesday
The Gypsy's Corner's Three or More Tuesday
16 Responses to "Southern Pesto"
Leave a Reply