Southern Pork Kabobs
Submitted by Christi
Last week, you may recall the chicken kabobs that I showed you on Friday. We had those in Vicksburg with my husbands high school classmate Susan and her husband Richard. They were so good. I decided to try the same sort of thing with pork.
First I marinated cut up a tenderloin into chunks.
I then marinated the pork chunks in a mixture of pineapple juice, soy sauce, garlic and onion for about 8 hours.
At that point, they were ready to assemble. While I assembled the kabobs, my husband started lighting the charcoal and mixed a little apple wood with it.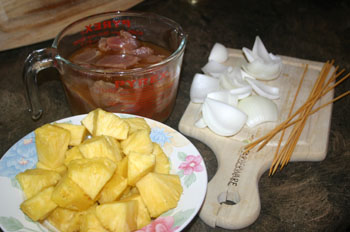 I threaded the pork onto bamboo skewers that had been soaked for 30 minutes with pineapple and onion. You could use bell pepper or other veggies with this as well.
Here they are ready to go on the grill.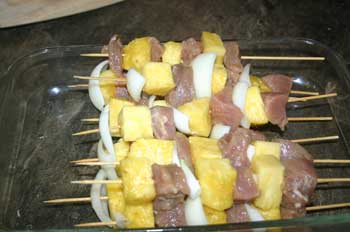 The grilled for around 5 minutes each side. While they grilled, I made some rice to serve with them. Here they are hot off the grill.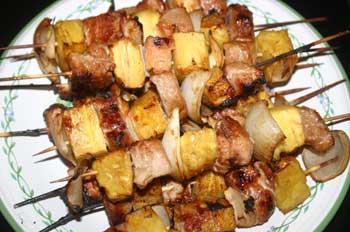 Served with a salad, this made a really easy and delicious meal. Now, I'm going to try to plant the crown of the pineapple and see what happens!
Today's Lagniappe: Perfect Rice
The trick to perfect rice seems to be in cleaning it first.
To each cup of rice, add 1 1/2 cups of water. First clean the rice in cold water by placing the rice in cold water, swishing it around and then draining it.
Place the 1 cup of rice to 1 1/2 cups of water in a pan. Add 1 to 1 1/2 tablespoons of butter, if desired. Bring to a boil. Cover and simmer for around 30 minutes or until water is absorbed.
It's a four-for Tuesday! Join these great blogs for more recipes and great ideas.
Balancing Beauty and Bedlam's Tasty Tuesday
Blessed with Grace's Tempt My Tummy Tuesday
The Gypsy's Corner's Three or More Tuesday
2nd Time Around with A Picture is Worth A Thousand Words
Tags: Southern Food
17 Responses to "Southern Pork Kabobs"
Leave a Reply