Southern Stroll in the Yard
Submitted by Christi
I can't believe how fast the summer has gone. Here we are, almost to the middle of August! Susan, over at A Southern Daydreamer is once again hosting Outdoor Wednesday.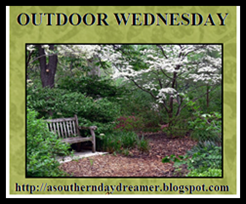 Things have certainly changed in the yard. Here is what is going on.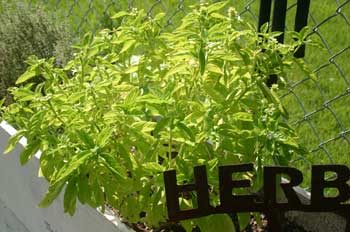 So much basil and thyme. I think it is time to make pesto!
Here is the garden now. Remember when it used to look like this: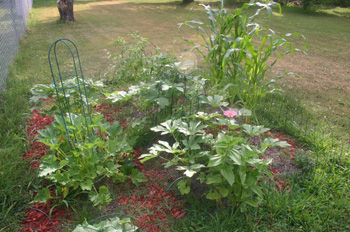 This is today's harvest:
Lots of okra! Glad to see my little cherry tomatoes producing.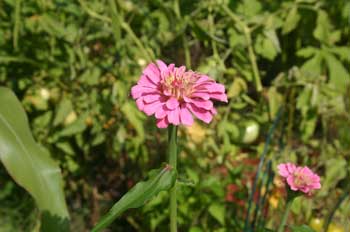 I have zinnias growing at both ends. Somebody tell Gollum that there are no bodies in the garden. If you haven't read her book Crazy Ladies, just ignore that! This okra is ready to harvest: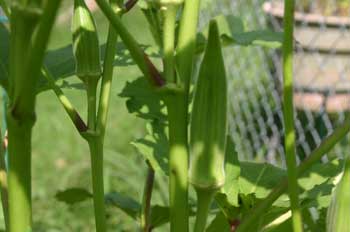 This corn will be ready soon: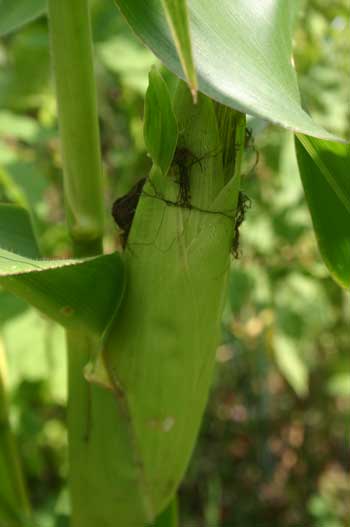 Of course, the crepe myrtle is in bloom. It is the one thing that blooms no matter how hot it gets!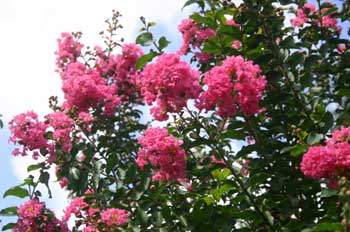 Then there is the beautiful Rose of Sharon: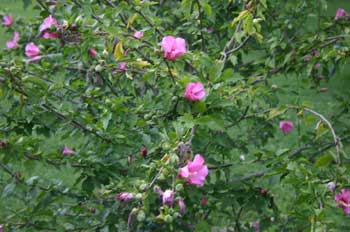 The ferns on the porch have really enjoyed the rain: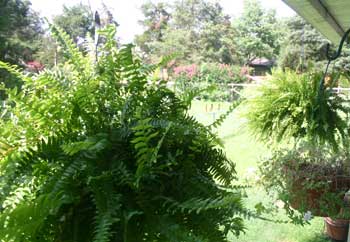 And, a few pretties to bring inside.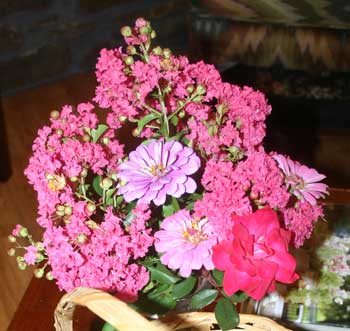 So many things to see when I stroll through the yard. It is worth fighting off the mosquitos!
For as the earth bringeth forth her bud, and as the garden causeth the things that are sown in it to spring forth; so the Lord GOD will cause righteousness and praise to spring forth before all the nations.
Isaiah 61:11
Today's Lagniappe: Maque Choux
A Cajun dish made with corn. This is a variation of an earlier version that I published. This one is made with fresh corn.
6 ears corn, husked and cleaned
2 tablespoons vegetable oil
1 large onion, thinly sliced
1 cup green bell pepper, chopped
1 large fresh tomato, chopped
1/4 cup milk
salt to taste
cayenne pepper
1/4 cup chopped green onions
8 strips crisply cooked bacon, crumbled
Cut corn off the cobs by thinly slicing across the tops of the kernels; place in a medium bowl. Cut across the kernels again to release milk from the corn, add milk to bowl. Set aside.
Heat the oil in a large skillet over medium-high heat. Add onion and green pepper, cook until onion is transparent, about 5 to 8 minutes.
Combine corn, tomatoes, and milk with the onion mixture. Reduce heat to medium low, and cook 20 minutes longer, stirring frequently to prevent sticking. Do not boil.
Season with salt and cayenne pepper. Lower heat, cover skillet, and cook 5 to 10 minutes longer. Stir in green onions and bacon. Remove from heat and serve.
26 Responses to "Southern Stroll in the Yard"
Leave a Reply