Southern "Thing"
Submitted by Christi
Here is a picture of the "thing.":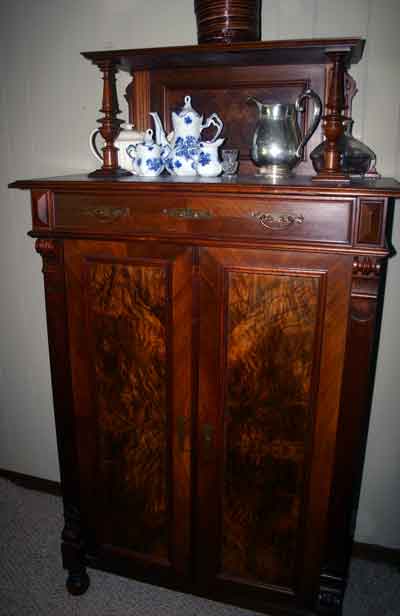 It is actually an antique music cabinet. I love this piece. It is one of my favorites in the house. At one point, I thought, "wouldn't it be great to use this as a tv cabinet?"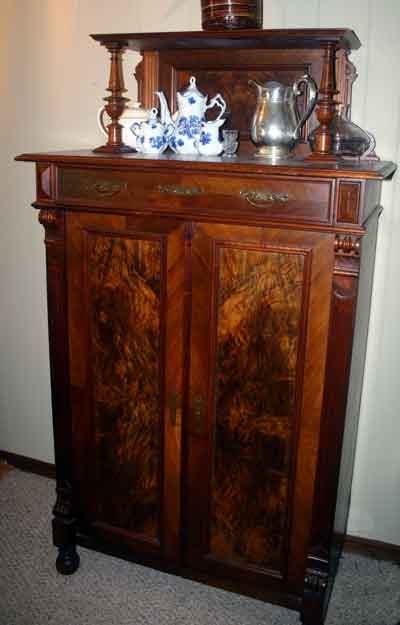 Well . . . that didn't work. It is a beautiful piece, but, it was not big enough or sturdy enough to hold today's television sets.
It is, however, good enough to hold part of my pitcher collection, particularly, my flow blue coffee set: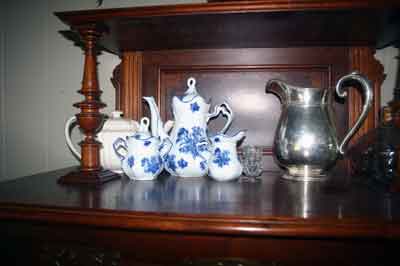 So, what to do? Well, how about if I design and build my own cabinet fashioned after the beautiful music cabinet (also known fondly as "the thing"). After much effort and, yes, even a few tears, I came up with this: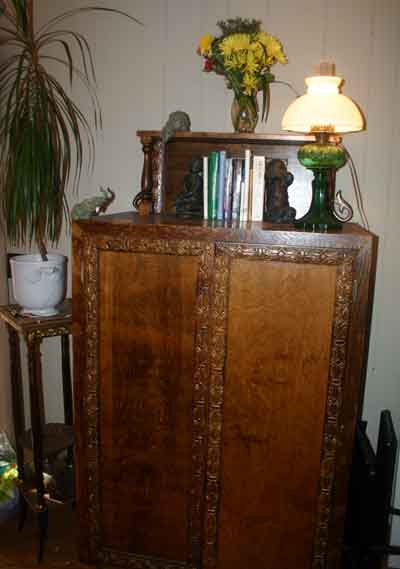 I made a frame with 2×4's and then added the nicer wood on top and then embellished with some leftover crown molding. I made the shelf on top and set above some turned spindles. There is no way I could copy the workmanship on the original cabinet. The dove-tail workmanship on the original is so nice and the wood is very unique. However, for a television cabinet, I kind of like my design. Here is the top:
Compared to the original: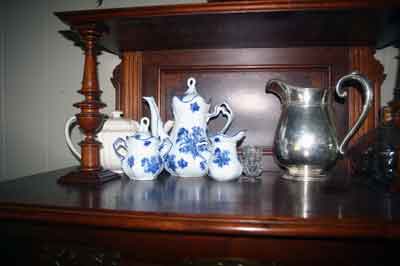 I'll admit, this wasn't the easiest thing to build. It was easy to imagine, but, actually getting out a table saw and putting the pieces together then staining and varnishing them, was another story. My husband has a lot of laughs at my "building" skills. Oh, well . . . we both like how it turned out and have enjoyed it a lot! If I can build it, anybody can!
Get your week off to a great start by checking out Blue Monday at Smiling Sally's and Metamorphosis Monday at Between Naps on the Porch.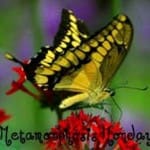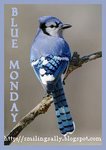 2 Corinthians 5:17

Therefore, if anyone is in Christ, he is a new creation. The old has passed away; behold, the new has come.
Today's Lagniappe: Pork with Apples
It's apple time!
2 tbsp. vegetable oil
1 tbsp. each cider vinegar, Dijon mustard & brown sugar
2 pork tenderloins (2 1/2 lb.)
1 tbsp. butter
Salt & pepper
1/2 c. chicken broth
3/4 c. apple cider
1/2 c. whipping cream
Apples:
2 tbsp. butter
4 apples, cored, in 1/2 inch slices
1 tbsp. brown sugar
Mix 1 tablespoon oil, vinegar, mustard and brown sugar. Transfer to a large plastic bag and add pork. Seal bag and refrigerate several hours.Heat remaining 1 tablespoon oil and butter in large skillet. Add pork and brown well on all sides, seasoning with salt and pepper. Add stock; reduce heat and simmer about 35 minutes. Remove meat and set aside, tented with foil to keep warm. Add apple cider to pan juices and boil until reduced to about 3/4 cup (5 minutes).
Meanwhile, melt butter in large skillet. When hot add apples and cook until barely tender. Sprinkle with brown sugar and continue cooking 1 minute longer. Finish sauce by adding cream to the reduce cider mixture. Boil until slightly thickened. Serve pork in thin slices topped with sauce and apples on the side. Serves 6.
20 Responses to "Southern "Thing""
Leave a Reply