Southern Transformation
Submitted by Christi
My mother has been visiting this past weekend. One of my mother's china patterns is Blue Danube. She has replaced the teapot a couple of times because a piece broke off of the spout. We have often talked about turning the damaged teapot into a lamp.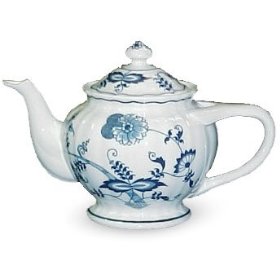 It is a beautiful lamp. Did you know you can turn almost anything into a lamp? Here is a good tutorial:
I think that Blue Danube Teapot would make a lovely Blue Danube lamp! What do you think?
Get your week off to a great start by checking out Blue Monday at Smiling Sally's and Metamorphosis Monday at Between Naps on the Porch.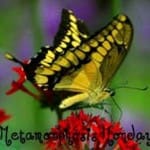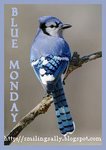 Thy word is a lamp unto my feet and light unto my path.
Psalm 119:105
Today's Lagniappe:  Maple Glazed Salmon with Pineapple
Something light to start out the week!
1/2 cup maple syrup
2 tablespoons Dijon mustard
4  6-ounce salmon fillets
1 1/2 teaspoons kosher salt
1/2 teaspoon black pepper
1/2  fresh pineapple
1  jalapeno, seeded and finely chopped
2 cups cooked white rice
Directions
1. Heat broiler. Whisk together the maple syrup and mustard in a small saucepan over medium heat and bring to a boil. Simmer until slightly thickened, about 5 minutes. Remove from heat and set aside.
2. Place the salmon in a foil-lined 9-by-13-inch baking dish. Season with the salt and pepper. Slice the peel from the pineapple half and cut it lengthwise into quarters, then cut each quarter into 1/2-inch-thick triangles. Scatter the pineapple and jalapeño around the salmon. Brush the salmon with the syrup mixture.
3. Broil for 5 to 7 minutes, or until the salmon flakes easily when pricked with a fork and the inside is the same color throughout. Serve the salmon and pineapple with the rice and drizzle with the remaining glaze, if desired.
17 Responses to "Southern Transformation"
Leave a Reply