Southern Visit to the White House
Submitted by Christi
My, it has been a busy and fast week. I was going through a drawer the other day and came across pictures from my lovely time attending tea at the White House a few years ago. I wish I had gotten more of the beautiful tables.
All of the tables were decorated with roses. Many colors of roses. They were absolutely stunning. Wouldn't you love to have a florist dedicated to making the events at your home spectacular? They did a fabulous job.
The food was wonderful as well. My favorite was a small meringue that was filled with fresh strawberries in a strawberry jam. If my mama hadn't taught me better, I would have just parked right there and finished off the tray of those yummy goodies!
Here is the invitation: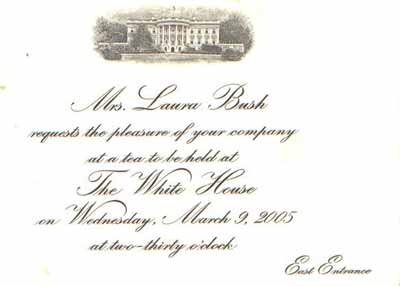 The East Entrance: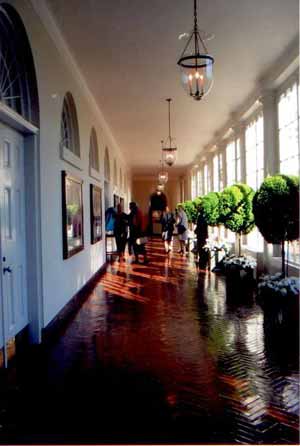 The main table. This table was set up in the State Dining Room: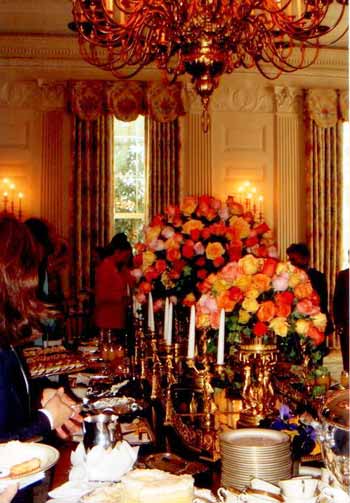 There were also tables set up in the vestibule: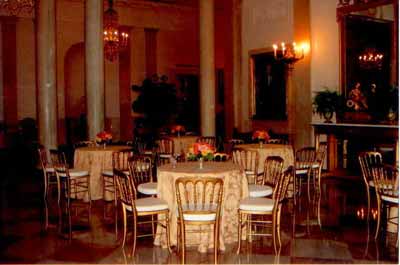 Every surface was adorned: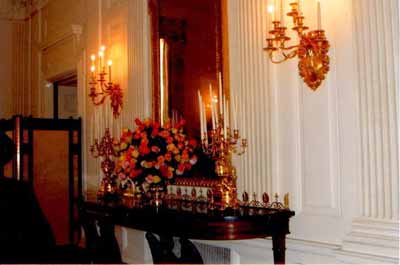 We were able to roam freely (somewhat) through the rooms. That meant we could spend as much time as we wanted in the china room on the ground floor! You know I was there taking notes!
We also had our picture taken by the official White House photographer. After the event, they sent us the picture. That's me on the far left.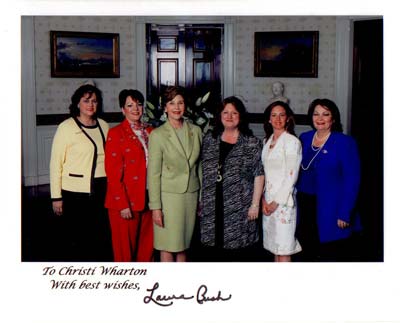 I hope you find some inspiration in these pictures. While most of us don't have a full-time staff to help us entertain, it doesn't mean we can't do it beautifully ourselves. I am reminded of that as I visit all of the beautiful tablescapes that are created every week and posted on Susan's beautiful blog, Between Naps on the Porch.
A late edit: I have one word of advice for anyone who is invited to the White House – wear comfortable shoes!
Today's Lagniappe: Bess Truman's Ozark Pudding
In keeping with the White House theme, this recipe from Bess Truman.
1 egg
3/4 cup sugar
2 tablespoons all-purpose flour
1 1/4 teaspoon baking powder
1/4 teaspoon salt
1/2 cup chopped peeled apples
1/2 cup chopped nuts
1 teaspoon vanilla
Whipped cream (with a touch of rum, if desired) or vanilla ice cream
Preheat the oven to 350 degrees. Grease a 10-inch pie pan.
Beat the egg and the sugar together until smooth. Add the flour, baking powder and salt. Blend well. Fold in the apples, nuts and vanilla. Pour into the prepared pie pan and bake for 30 to 35 minutes. Remove from the oven; the pudding will fall, but it's supposed to. Serve warm with whipped cream or ice cream.
34 Responses to "Southern Visit to the White House"
Leave a Reply