Hooked on Southern Apples!
Submitted by Christi
Okay, not just Southern apples, any apples. I love when September comes around and we start getting that fall feeling.
I love the taste of apples and the smell of apples as in Aromatique's cinnamon cider candles: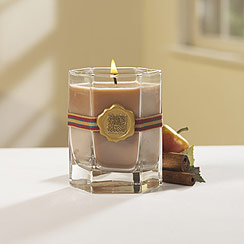 How about the smell of Apple Crisp?:
You can decorate with apples:

Eat off apples: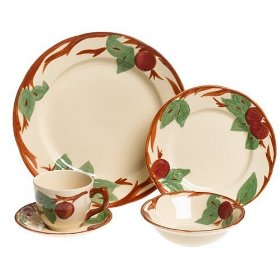 You can even drink and apple:
Appletini:
1 1/2 oz Smirnoff® Green Apple Twist vodka
1 oz DeKuyper® Sour Apple Pucker schnapps
Stir ingredients together with crushed ice in a cocktail/martini glass, and serve.
Hooray for apples!
Today we are joining: Hooked on Fridays at Hooked on Houses and Foodie Friday at Designs by Gollum.
While the earth remaineth, seedtime and harvest, and cold and heat, and summer and winter, and day and night shall not cease. Genesis 8:22
If you haven't voted for your favorite place setting yet, go to yesterday's post and get your vote in!
Today's Lagnippe:  Apple Crisp
4 medium tart cooking apples, sliced (4 cups)
3/4 cup packed brown sugar
1/2 all-purpose flour
1/2 cup quick-cooking or old-fashioned oats
1/3 cup butter or margarine, softened
3/4 teaspoon ground cinnamon
3/4 teaspoon ground nutmeg
Cream or Ice cream, if desired
1. Heat oven to 375ºF. Grease bottom and sides of 8-inch square pan with shortening.
2. Spread apples in pan. In medium bowl, stir remaining ingredients except cream until well mixed; sprinkle over apples.
3. Bake about 30 minutes or until topping is golden brown and apples are tender when pierced with a fork. Serve warm with cream.
21 Responses to "Hooked on Southern Apples!"
Leave a Reply