Southern Fair Entry
Submitted by Christi
Welcome to my entry in Tablescape Thursday. Hosted every week by the very talented Susan at Between Naps on the Porch.
Last year, I entered a place setting in the County Fair. Since I enjoy doing tablescapes, I thought this was a fun thing to try. Lo and behold, I won Best of Show for this place setting!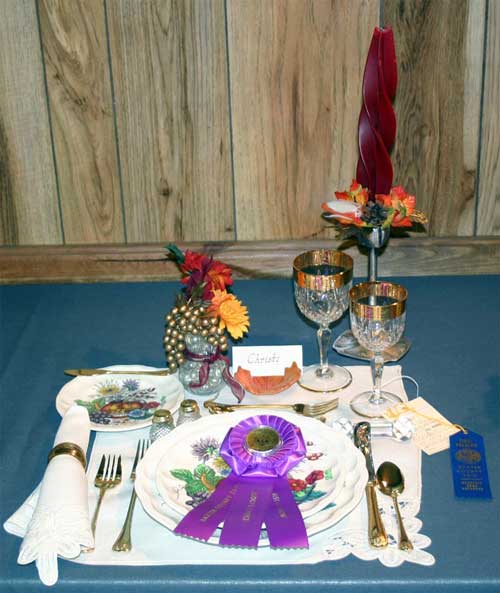 Isn't that a lovely blue table they gave us to place our settings – not! The rules state that the setting must be on a placemat. That is kind of a problem for me because I don't have that many placemats that are suitable for my more formal china. In the setting above, I used a large napkin.
So, I'm thinking about entering again this year. I can't decide what to enter. I'll show you some possibilties and you can vote on your favorite. Of course, I would welcome any suggestions as well. I've heard they are sticklers on the proper placement of flatware. That is okay, I kinda am too. The categories are casual, formal, holiday and other. You can only enter one setting.
Okay, here are the place settings (in no particular order).
Sterling Rose by Royal Tettau (formal):
There are actually two placemats because the top one is kind of sheer. I put a plain white one underneath. Don't want that blue table showing through if I enter this one in the fair!
Okay, up next is Citation Gold by Lenox (formal):
Next in our lineup is Ribbon Holly by Mikasa (holiday):
Note: I don't have as much of this setting. Only the basics, dinner plate and coffee cups.
And our last contestant, Golden Wreath by Lenox (formal):
Okay there they are.
n
I'll see who wins and probably enter that one. Thanks for helping me out. If I win another Best of Show ribbon, we can all take credit!
Today's Lagniappe: Autumn Delight
Got this from The Old Farmer's Almanac
* 2 cups flour
* 3/4 cup milk
* 6 tablespoons shortening
* 4 level teaspoons baking powder
* 1 teaspoon salt
Combine the above ingredients and roll as for biscuits. Place on the dough:
* 4 apples, sliced
* 3 tablespoons sugar
* 1 teaspoon cinnamon
* 1 teaspoon nutmeg
Roll up like a jelly roll, then slice and place in a buttered 2-inch deep pan. Make a syrup:
* 2 cups water
* 1 tablespoon butter
* 1-1/2 cups sugar
Bring to a boil and pour over the pan. Bake at 375° for about 40 minutes. Serve warm with or without whipped cream.
36 Responses to "Southern Fair Entry"
Leave a Reply