Southern Fried
Submitted by Christi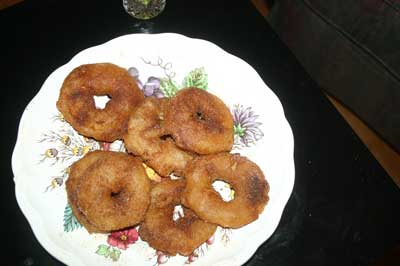 Today, I'm going to share a beer batter that can be used to coat many things for frying.
1 egg
1 cup dark beer
1 cup all-purpose flour
1/2 teaspoon salt
In a medium mixing bowl whisk the egg. Stir in the beer. Add the flour and salt. Mix until the batter is smooth. Set aside.
Now all you need is to heat oil to 375 degrees and start frying. Fry all items until golden brown and drain on paper towels. Here are some possibilities:
Onion rings – sprinkle with a bit of salt after frying, serve with ketchup
Apple rings – peel and slice and apple into rings, removing the core. Sprinkle with a cinnamon/sugar mixture (3 tbsp. cinnamon, 3 tbsp. sugar, 1/4 teasp. salt)
Mushrooms – sprinkle with a bit of salt after frying, serve with ranch dressing
Zucchini strips – sprinkle with salt after frying and serve with ranch dressing
Okay, I think you get the idea. For labor day, we smoked a pork tenderloin over applewood and had the beer battered onion rings and apples. With a green salad, it was quite the tasty meal!
Today's Lagniappe: Apple, Blue Cheese and Walnut Salad
How about a salad to go with our fried food?
Salad
8 cups torn mixed salad greens
2 medium Fuji apples, halved, cored and sliced 1/8-inch thick
1/3 cup crumbled blue cheese
1/4 cup coarsely chopped toasted walnuts
In large bowl, combine salad greens and apple slices. Add vinaigrette to salad; toss gently to coat. Arrange salad on large platter; sprinkle with cheese and walnuts.
Vinaigrette
3 tablespoons olive oil
2 tablespoons balsamic vinegar
2 teaspoons Dijon-style mustard
1 clove garlic, crushed
Fresh ground black pepper, to taste
In small bowl, whisk together ingredients; set aside.
It's a three-for Tuesday! Join these great blogs for more recipes and great ideas.
Balancing Beauty and Bedlam's Tasty Tuesday
Blessed with Grace's Tempt My Tummy Tuesday
The Gypsy's Corner's Three or More Tuesday
20 Responses to "Southern Fried"
Leave a Reply