Southern Observations
Submitted by Christi
Dr. Andrew Weil wrote a book called Eight Weeks to Optimum Health. One of the things he recommends is having fresh flowers in your home. That is a wonderful idea. I love having fresh flowers. To make it even more affordable, I grow my own! Even in the winter you can go out and find evergreens and holly with red berries in the woods without spending a dime. Here is one of the ways I "dress up" the flowers I grow:
I can use the spiky leaves from this house plant. It is really tall. Sorry to cut off the top in the pic.
I can use the greenery from bushes outside my home. Here is a bush on the side of my house that not only has interesting greenery, but, also, great berries. The birds love these berries, so, I go easy on cutting them off and using them indoors.
Zinnias are one of my favorite flowers to grow in the summer. Just plop in the seeds and they are good to go!
Here is an arrangement with my zinnias, greenery from a houseplant and greenery from a bush outside my house: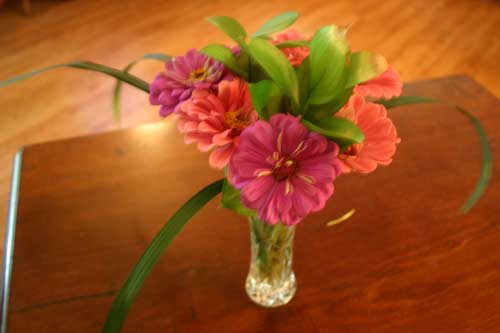 I can see how having these lovely things around you can make you healthier.
Even if you don't grow flowers yourself, you can buy inexpensive flowers from the market and dress them up with the greenery from around your home.
What a lovely and easy way to add some beauty to  your home!
Join Susan at Between Naps on the Porch to see a lot of great ways to transform your home.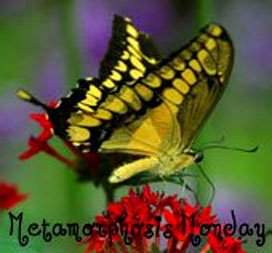 Today's Lagniappe: Pumpkin Gingerbread
The county fair starts this week. I look forward to seeing all of the harvest from the summer. Pumpkins are always a favorite!
3 cups sugar
1 cup vegetable oil
4 eggs
2/3 cup water
1 (15 ounce) can pumpkin puree
2 teaspoons ground ginger
1 teaspoon ground allspice
1 teaspoon ground cinnamon
1 teaspoon ground cloves
3 1/2 cups all-purpose flour
2 teaspoons baking soda
1 1/2 teaspoons salt
1/2 teaspoon baking powder
Preheat oven to 350 degrees F (175 degrees C). Lightly grease two 9×5 inch loaf pans.

In a large mixing, combine sugar, oil and eggs; beat until smooth. Add water and beat until well blended. Stir in pumpkin, ginger, allspice and cinnamon.

In medium bowl, combine flour, soda, salt, and baking powder. Add dry ingredients to pumpkin mixture and blend just until all ingredients are mixed. Divide batter between prepared pans.

Bake in preheated oven until toothpick comes out clean, about 1 hour.
6 Responses to "Southern Observations"
Leave a Reply