Southern Frost
Submitted by Christi
It's time for Met Monday with Between Naps on the Porch.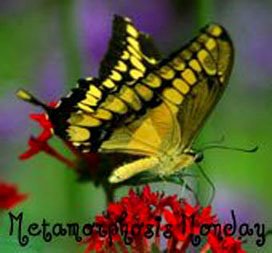 And Blue Monday at Smiling Sally's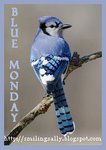 We had our first frost of the season this morning. Now, we aren't supposed to have another freeze in the 10 day forecast (who knows after that), however, I've been making some plans for my outdoor plants.
You have seen pictures of my ferns hanging around the back porch.
Well, once again, I'm going to see if I can keep them through the winter. For the freeze, I brought them in. As long as  the lows stay in the upper 40's and 50's I'll leave them outside, but for a freeze, I'll bring them in. I'll admit, while I usually do very well with house plants, I've never had much success with ferns. They usually end up dried out and shedding all over the floor. I am, however, going to try again.
The problem is finding a place for them. Outside, they don't look that big, but when you bring them in, they seem enormous.
I'm thinking about putting one on the piano.
I may have to come up with a way to raise it up higher. It is hard to see the pretty Waterford lusters.
The Mozart bust that my piano teacher gave me when I graduated from high school is hard to see through the forest of fern.
And the metronome is kind of hidden too.
The other fern is situated with my bird of paradise plant (remember the one that only blooms every 7 years?).
I see lots of vacuuming in my future.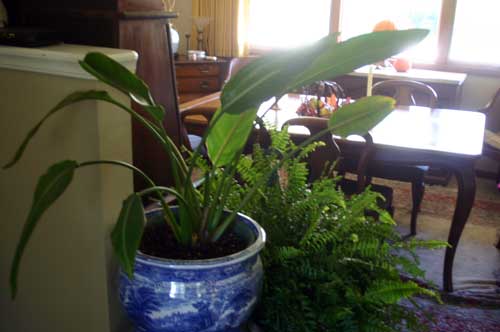 We'll see how it goes. My other house plants are pretty low maintenance, but ferns just aren't. They require plenty of moisture and care. Maybe, I'll be successful this year. I do love how they look in the house. They make me feel like I have saved a bit of the summer inside.
Do you bring your outside plants in for the winter? Tell me about them and how you keep them alive.
Today's Lagniappe: Alabama Cookies
YUM!
1 cup shortening
1 cup sugar
1 cup brown sugar firmly packed
2 eggs
1 tsp. vanilla
1-1/2 cups flour
1 tsp. salt
2 cups regular oats
2 cups chopped pecans
1 cup Rice Krispies
1 cup flaked coconut
Preparation:
Cream shortening, gradually add sugars, beating well at medium speed of mixer. Add eggs and vanilla, beating well. Combine flour and salt, add to creamed mixture, mixing well. Stir in oats and remaining ingredients. Drop dough by heaping teaspoons onto greased cookie sheets. Bake at 325° for 10 to 12 minutes. Let cool slightly on cookie sheets, remove to wire rack to cool completely.
Makes about 6 dozen cookies.
25 Responses to "Southern Frost"
Leave a Reply