Southern Haunting
Submitted by Christi
A change is in the air. I can feel it and when I look around the neighborhood, I can see it. Something is afoot here! The world is metamorphosing even as I live and breath.
I'm not sure what is going on but it is really scary around here. Could it be? I think it is . . . Oh yes! It is almost Halloween!
Let us take a moment out for a quick announcement:
As many of you know, in addition to this blog, my husband and I have another blog for his business (Wharton Website Design and Marketing). On that blog, starting tomorrow, we will be teaming up with Soldiers' Angels to participate in the Valour IT project.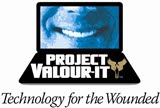 Many of our military who are wounded receive comfort by way of technology. The Valour IT project is a fund raising effort to help provide the purchase and shipment of laptops and other technology for severely wounded service members. As of November 2008, Valour-IT has distributed over 2700 laptops to severely wounded Soldiers, Sailors, Airmen and Marines across the country, and is now expanding its mission to include other technology that supports physical and psychological recovery. Every cent raised by this effort is used directly for the purchase and shipment of the technology needed.
The project is divided up by teams representing the different branches of the armed services to make it a little more fun. All of the money raised by the teams is for the same project. Wharton Website Design and Marketing has joined the Marine team! Go Marines.
If you would like to donate to the help and comfort of our military, please go to the Wharton blog and click on the Valour IT link on the top right.
How else can you help? Join the effort yourself by posting about this on your blog. Help us get the word out. This fund raising effort runs from October 26 through Veterans Day, November 11!
Let's give back to those who sacrifice for us!
Okay . . . back to our regularly scheduled program.
It is Metamorphosis Monday! See all the metamorphosing in the blog world at Between Naps on the Porch!
Today's Lagniappe:  Monster Toes
A fun recipe that I found at the Disney Family Fun website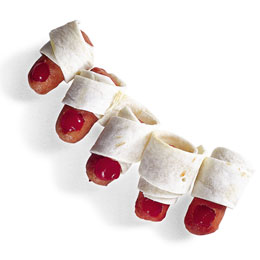 Cocktail wieners
6-inch tortillas
Ketchup or mustard
Toothpicks
1. Heat the oven to 350 degrees. Cut a wedge into the end of each cocktail wiener to make a toenail.
2. Cut the tortillas into strips about 4 inches long and 3/4 inch wide. Discard the ends.
3. Soften the strips in the microwave between damp paper towels for 10 to 30 seconds.
4. Roll each wiener in a tortilla strip and secure with a toothpick.
5. Bake for 7 to 8 minutes. Remove them from the oven, then fill the toenail with ketchup or mustard. Remove the toothpicks before serving.
Tags: Southern Seasons
12 Responses to "Southern Haunting"
Leave a Reply