Southern Reds
Submitted by Christi
So many wonderful red things to see these days. This past Saturday, there was a hot air balloon event on the local campus of ASU (Arkansas State University, Mountain Home).
A lot of people are decorating with fall mums. I love the red ones with the yellow centers.
The pyracantha (fire thorn) berries are turning red.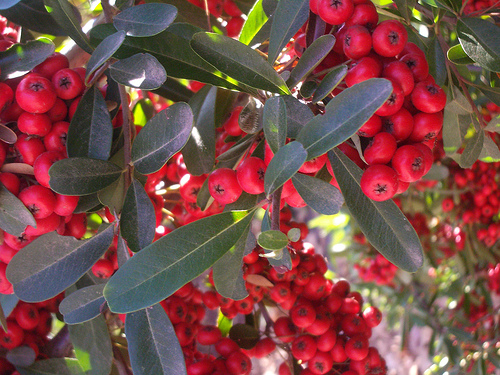 My neighbor's red gazing ball and red geraniums.
Sometimes in the fall it looks like the world is on fire!
Starting tomorrow will be a special time. Next Monday is my 12th wedding anniversary and I will start the celebration with a table setting with my wedding china and will continue looking back with recipes of dishes served at the rehearsal dinner, the wedding reception and even some from the honeymoon! Hope you will join me for my special trip down memory lane.
A little outdoor red for Outdoor Wednesday with A Southern Daydreamer and Rednesday! with It's a Very Cherry and today's lagniappe is a great idea for Crockpot Wedneday with Dining with Debbie.
By the way, you may have noticed that I have added a some ads to A Southern Life. In this economy, we can use all the help we can get. If you are planning to order from any of the sponsored ads, I would greatly appreciate it if you would consider going through A Southern Life to get to the sites that are posted. If you order from sites that are not posted and I can possibly post them from this site, let me know what they are and I'll see what I can do. Thanks so much for all of you who visit and enjoy this site. I hope you will understand the need for the ads and, if you can, will contribute to the cause!
Today's Lagniappe: Crockpot Red Beans and Rice
Even something red to eat and man is it yummy!
1 lb. red kidney beans
1 ham bone (with meat) or 4 ham hocks
1 bay leaf
1 tsp. cayenne (more to taste)
1 clove garlic, crushed
1 lg. stalk celery, chopped
1 lg. onion, chopped
2 tsp. sugar
2 tsp. salt
1 tsp. cumin
Rice, cooked
Fresh chopped parsley
Wash beans in cold water and pick out rocks and bad beans. Cook in 3 quarts of water in large pot for 1 hour or in crock pot for 2 hours. Add all other ingredients (except rice) and cook for 2 or 3 hours in crock pot or 1 1/2 to 2 hours on top of stove. To serve, put beans in bowl and cover with hot rice.
22 Responses to "Southern Reds"
Leave a Reply