Southern Sunday Favorite
Submitted by Christi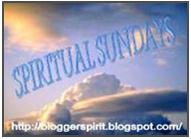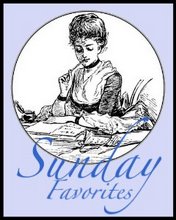 Join Chari at Happy to Design for Sunday favorites and Charlotte and Ginger at Blogger Spirit for Spiritual Sunday and enjoy your Sunday!
This is the day which the LORD hath made;
we will rejoice and be glad in it.
Psalm 118:24
This was originally posted April 28th, 2009:
Yesterday, I wrote about how I enjoy being outside. After I wrote that post, I watched the news. Again, I was so grateful for the beauty of nature. The news was all about the swine flu. I looked out my window at the Spring rain (okay, sometimes storm), and everything was put back in perspective.
In these difficult times, I think it is a good thing for each of us to look for the beauty in our lives. One thing I have always loved about living in the South is the warmth. Not just of the weather, but, of the people. When I walk in my neighborhood, people wave. I know my neighbors names and enjoy sharing a wave and a smile when we see each other. There is beauty in a well set table with good home-cooked food that you share with someone you love.
I feel like Julie Andrews singing My Favorite Things :). Oh well, it worked for her, and, obviously it works for me.
I hope each of you finds beauty and a few of your favorite things in this day.
Today's Lagniappe: Tabouli Primavera
When I was growing up, we spent many weekends at the lake. Occasionally, we would drive over to a restaurant called Neifi's, where they had tabouli. It is a middle-eastern dish that is pretty exotic for a small town girl like me. I always enjoyed it.
2 cups bulgur
2 cups boiling water
1 cup chopped tomatoes
1 cucumber, chopped
1 small bunch green onions, chopped
1 (4 ounce) package crumbled feta cheese
2 (2.25 ounce) cans sliced ripe olives, drained
1/4 cup minced fresh basil
Dressing
1/2 cup fresh lemon juice
3/4 cup extra virgin olive oil
1 tablespoon pepper
2 teaspoons salt, or to taste
DIRECTIONS
Place bulgur in a large bowl; stir in boiling water. Cover and let stand for 30 minutes or until most of the liquid is absorbed. Drain and squeeze dry.
In another large bowl, combine remaining ingredients.
Mix together dressing ingredients and pour over veggies.
Add bulgur and toss to coat.
12 Responses to "Southern Sunday Favorite"
Leave a Reply