It's Beginning to Look A Lot Like A Southern Christmas!
Submitted by Christi
Merry Met Monday and Creative Monday!
At our home, we generally wait a little later to decorate for Christmas. However, my mother and my nephew have already gotten off to a good start transforming their homes into Christmas wonderlands! Don't you just love it when that happens? There is still some left to do but here is where they are so far.
Okay, so here is what is going on at Mama's house:
I love the Swarovski. My husband, Joe and I started the collection for my mother and have added to it through the years. The little crystal Santa has blue eyes!
Okay, now on to my nephew, Bryan and his lovely wife Shara. They live near Washington D. C. You might never imagine my nephew, the Marine (inactive) being a gourmet cook with musical talent (I taught him when he was a toddler) also has other talents. He makes his own wine and beer and is really good at it. Quite the renaissance man! They haven't done their tree yet. This is what they have done so far: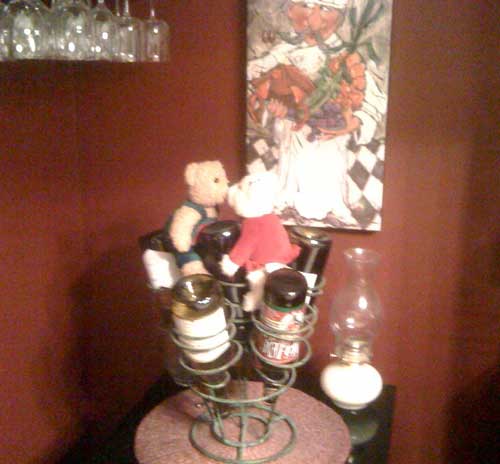 I like that he sent me this picture of a unique wine rack that has been decorated for Christmas. This was a shower gift to Bryan and Shara from my husband and me.
I'll be bringing you more pics from my family's decorations and mine as well throughout December. What a fun time it is.
If you have a Magnolia tree, or there is one in the neighborhood that you neighbors would not mind you borrowing from, make this pretty Magnolia Wreath as described on Southern Living online.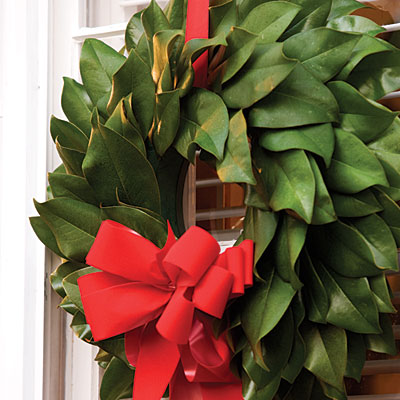 I remember my music teacher in high school, Betty Woods, saying what a special time of year this is and that we should take time to notice how the starts were brigher and the air was crisp and the whole earth celebrates. She probably wondered why she bothered telling this to a bunch of crazy teenagers, but all of these years later, I still remember and love to go outside in December and see that what she said is true!
Today's Lagniappe:  Christmas Cookie Cocktail
From the Biltmore Estate – Yummy!
1. Drizzle chocolate sauce on a chilled martini glass.
2. Add 2 oz. White Godiva Vodka, 2 oz. Bailey's Irish Cream, 1/2 oz. Peppermint Schnapps and 1/2 oz. half and half
3. Garnish with a miniature candy cane or chocolate shavings.
Tags: Southern Christmas
17 Responses to "It's Beginning to Look A Lot Like A Southern Christmas!"
Leave a Reply