Southern Morning Treat
Submitted by Christi
Thanksgiving is almost here and my family is coming to visit! I am so excited and am really looking forward to it. There is sooooo much to do. When things get hectic it is so nice to enjoy the everyday things. Okay, so, I am a very blessed girl. here it is . . . my wonderful husband brings me coffee in bed every morning in my favorite cup.
It is pretty worn now and this is my second cup like this. It has a peachy pink rose on both sides. That is my favorite pink of everyday and I am sharing it for Pink Saturday with Beverly at How Sweet the Sound.
It used to have a lovely pink flower on the inside of the cup. that is completely worn off now. Even the handle has a pretty touch of pink on the top.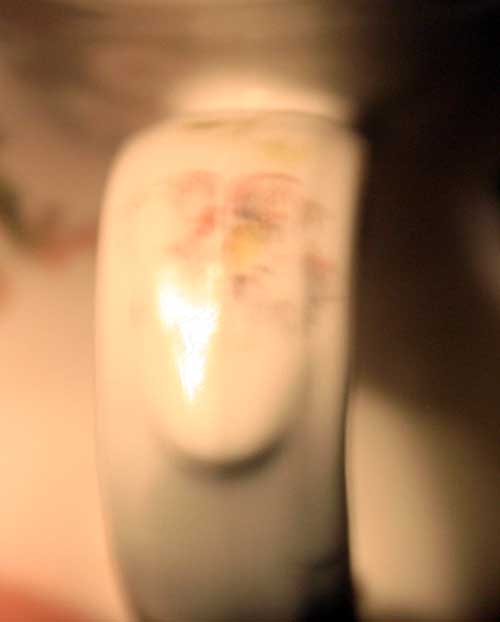 You may think the picture is blurry, but the top of the handle is pretty worn. We use our china around our home! At some point, I'll have to see about replacing this one.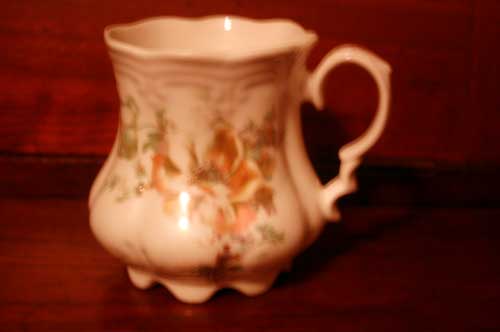 The light is different in the pic above but I wanted to show you another picture so you could see again the wonderful shape of the handle and the cute little feet on this wonderful cup.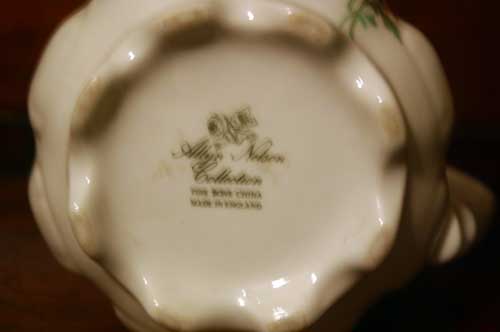 This cup is from the Allyn Nelson Collection of fine bone china, made in England. It is a wonderful way for me to start every day! And, thank you to my wonderful husband for bringing me coffee in this wonderful cup each morning.
Today's Lagniappe: New Orleans Cafe Au Lait
We always drink coffee with chicory. It is our favorite and a wonderful way to start the day. This recipe is for coffee with chicory mixed with milk like you would fine at Cafe du Monde in New Orleans.
Divide the brewed coffee into 2 cups.

Add steamed milk evenly to each cup topping them off with the froth from the steamed milk.

Sprinkle cinnamon on top to garnish.
Tags: Southern Family
24 Responses to "Southern Morning Treat"
Leave a Reply