Southern Pink Saturday
Submitted by Christi
Back in my single days, I decorated with pink a lot. The comforter on my bed was pink floral, my couch was a peachy pink and white stripe, I had art that was framed with pink mats. I was and am a girly girl. These days, I don't impose so much femininity on my dear husband. However, I do still like to have some pink around!
Some of my favorite dishes – pink and white with pink floral salad plates.
I'll be using these dishes this weekend to have a break between the fall colors and the Christmas colors. I actually used to decorate my Christmas tree with pink as well, but now we do more traditional colors.
Happy Pink Saturday! Thanks to Beverly at How Sweet the Sound for hosting Pink Saturday.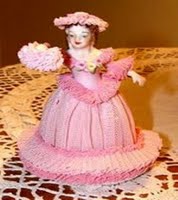 Today's Lagniappe:  Cranberry Spinach Salad
Something light after the filling Thanksgiving meal but still with a holiday favorite – cranberries!
1 (6 ounce) package fresh baby spinach
1/2 cup chopped pecans, toasted
1/2 cup dried cranberries
1/3 cup olive or vegetable oil
3 tablespoons sugar
2 tablespoons red wine or balsamic vinegar
1 tablespoon sour cream
1/2 teaspoon Dijon mustard
In a bowl, combine the spinach, pecans and cranberries. In a jar with a tight-fitting lid, combine the remaining ingredients; shake well. Drizzle over salad and toss to coat; serve immediately.
9 Responses to "Southern Pink Saturday"
Leave a Reply