First an update:
With the shootings at Fort Hood, the Soldiers' Angels sprang into action. I'll have to say, that is one of things you gotta love about them, they are women (and men) of action! So, what can you do?
SHOOTINGS AT FT. HOOD

Soldiers' Angels is assessing the needs and with our founder currently residing in Texas, we will be standing by to offer physical and emotional support to our heroes and their families.

RIGHT NOW: Collecting encouraging cards and NEW stuffed animals for the families and children of the injured/killed.  Please send cards and stuffed animals (and anything NEW that may brighten the life of a child) to:
Soldiers' Angels
4408 PanAm Expressway
San Antonio, TX 78218
A Valour IT Update: Project Valour IT, so far, has raised over $71,000 to help wounded soldiers with technology to help them heal!
Project Valour IT is still going on (through November 11). Many of our military who are wounded receive comfort by way of technology. The Valour IT project is a fund raising effort to help provide the purchase and shipment of laptops and other technology for severely wounded service members. If you would like to donate to the help and comfort of our military, please go to the Wharton blog and click on the Valour IT link on the top right.
How else can you help? Join the effort yourself by posting about this on your blog. Help us get the word out. This fund raising effort runs from October 26 through Veterans Day, November 11!
Okay, on with the post: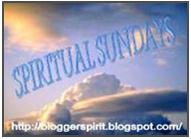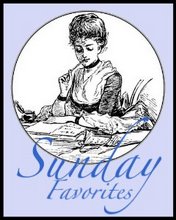 Join Chari at Happy to Design for Sunday favorites and Charlotte and Ginger at Blogger Spirit for Spiritual Sunday and enjoy your Sunday!
Let's start with a hymn. This one was my dear daddy's favorite:
Victory in Jesus
I heard an old, old story,
How a Savior came from glory,
How He gave His life on Calvary
To save a wretch like me;
I heard about His groaning,
Of His precious blood's atoning,
Then I repented of my sins;
And won the victory.
Chorus:
O victory in Jesus,
My Savior, forever.
He sought me and bought me
With His redeeming blood;
He loved me ere I knew Him,
And all my love is due Him,
He plunged me to victory,
Beneath the cleansing flood.
I heard about His healing,
Of His cleansing power revealing.
How He made the lame to walk again
And caused the blind to see;
And then I cried, "Dear Jesus,
Come and heal my broken spirit,"
And somehow Jesus came and brought
To me the victory.
Chorus.
I heard about a mansion
He has built for me in glory.
And I heard about the streets of gold
Beyond the crystal sea;
About the angels singing,
And the old redemption story,
And some sweet day I'll sing up there
The song of victory.
Chorus.
This post was originally published on October 13th, 2009. More examples of the beauty that God gives and that surrounds us every day:
In between the frequently rainy days, we have had some nice ones. Everything is really starting to take color.
A beautiful red October.
Then there is this:
These are growing all over the place. They are the weeds whose young leaves are used in poke salat (salad). The berries are gobbled up by the birds, but are best not consumed by humans. We have a few in the back yard that we have let grow by the fence for the birds. The stems are a beautiful purplish red. Don't you just love things like that?
A little outdoor red for Outdoor Wednesday with A Southern Daydreamer and Rednesday! with It's a Very Cherry and today's lagniappe is a great idea for Crockpot Wedneday with Dining with Debbie.
Today's Lagniappe: Crockpot Apple Butter
Something that smells great as it cooks and tastes great when it is done!
Put 3 quarts of apples, sliced thin, in a crock pot and cook overnight on high. Next morning, add 2 teaspoons cinnamon, 3 cups sugar, 1/2 teaspoon cloves. Cook all day on low.