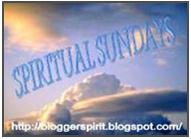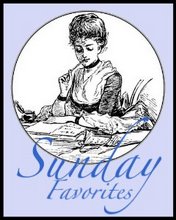 Join Chari at Happy to Design for Sunday favorites and Charlotte and Ginger at Blogger Spirit for Spiritual Sunday and enjoy your Sunday!
The favorite post I am sharing today is from January 15 2009. It was a list of things that I have done that I would recommend every Southerner do. All in fun, of course. I'll add another to this list today for Sprititual Sunday and it is an easy one.
Are you seeing a pattern here in the last couple of weeks? I am. I have been talking about the old hymns that have meant so much to me in my lifetime and have spoken to me in good times and bad. Amazing Grace, The Old Rugged Cross, How Great Thou Art, Redeemed. Last week I mentioned Victory in Jesus which was my daddy's favorite hymn and to this day, long since his death, (he was 54 and died of cancer), it still reminds me of him and his incredible faith.
When my heart is troubled, I know I can find comfort and peace in scriptures and prayers – and in these beautiful old hymns. Music has always spoken to a part of me that nothing else can reach. That may be because of my background (piano lessons and music lessons and a minor in vocal music) or it may just be human nature.
Enjoy, Amazing Grace today – both the hymn and the truth!
Back to that favorite post from January 15, 2009:
Just checked out Southern Living online. They asked the question, "What makes a person Southern?" Then they assembled a list of 40 things that every Southerner ought to do. I've decided to assemble my own list of things that I've done that I think every Southerner should do. Some are from their list, but most are my own. What would you add?
Have beignets and cafe au lait at Cafe Du Monde in New Orleans and blow powdered sugar on your friends.
Cross over the Chattahoochee River on my way to Phoenix City Alabama from Columbus, Georgia while Alan Jackson is singing "Way Down Yonder on the Chattahoochee" on the radio and sing along.
Have a slaw burger and a cheerwine in North Carolina.
Drive on Daytona Beach, Florida.
Scoot a boot at Billy Bob's Texas in Fort Worth.
Attend a party at South Fork in Dallas, Texas.
Take a sunrise hot air balloon ride over Charlottesville, Virginia from the Boar's Head Inn ending with a champagne celebration.
Attend the crawfish festival and pinch the tails and suck the heads in Beaux Bridge, Louisianna.
Listen to blues on Beale Street in Memphis, Tennessee after having just eaten great barbeque.
Grow mint to make mint juleps for Kentucky Derby day (or any other day for that matter). Haven't ever made it to the actual Derby but I enjoy joining in the fun at home.
Cheer till your throat is soar at any SEC football game. (I cheer for Arkansas – wooo pig!).
Grow tomatoes and okra.
Grow roses and win a blue ribbon with one at the county fair.
Set a beautiful table.
Drive from Columbus, Georgia to Warner Robbins on a warm summer day (I did this for a work trip and enjoyed the scenery).
Collect Southern cookbooks.
Have breakfast at Brennan's in New Orleans.
Attend Jazz Fest in New Orleans.
And of course (from the SL list) . . .
Mind your manners.
Talk Southern y'all.
I'm sure given the time I will think of many more. What about you? Feel free to comment!
Todays Lagniappe: Mama's Beef Stroganoff
1-1/2 lb. sirloin steak cut into pencil thin strips
1 cup flour (for dredging)
1 teaspoon salt
1/4 teaspoon pepper
2 small onions, chopped fine (I usually use one medium)
1/2 lb mushrooms (can use canned if you prefer)
1 clove garlic, crushed
4 – 6 tablespoons butter (Mama says it always takes more)
Sauce:
2 tablespoons flour
1 (10-1/2 oz.) can beef consumme
1 pint sour cream
salt and pepper to taste
paprika
1 tablespoon Worcestershire sauce
Season flour with salt and pepper. Dredge strips of meat in flour. Melt butter in large skillet. When butter is foaming, add the meat. Brown the meat a little and then add the onions, mushrooms and garlic. Cook until onions are transparent.
Remove meat mixture from the pan and keep warm. Reserve 2 tablespoons of butter in the pan (this is where you probably have to add more). Sprinkle flour in the hot butter and stir until smooth. Add beef consumme and cook for a couple of more minutes. Lower the heat and add the sour cream (do not let the sour cream curdle). Add the salt, pepper and stir in the Worcestershire.
Return the meat mixture to the pan with the sauce and stir to get the meat covered with the sauce. Serve warm over egg noodles.