Southern Christmas Eve at Mama's
Submitted by Christi
Christmas eve at Mama's house is special. We've set the table and will have a lot of fun laughing and sharing the special season of Christmas and honor the birth of our Saviour, Jesus Christ!
I've got some technical issues on Mama's computer (which being her techie daughter, I get to address tomorrow) so I'm posting some past pics that she took from a dinner they hosted as well as some from my home.  Once I get some of these technical taken care of, I'll post more!
Merry Christmas!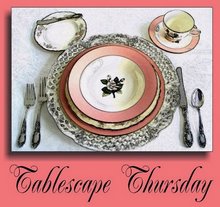 What mansion would that be? The Palace on the Prairie, the Marland Mansion in Ponca City Oklahoma. My mother and her husband, Chester hosted a party for all the church staff in the Kay Baptist Association at the Marland Mansion this week. Chester is the Director of Missions for the association. They have had this event at other places before but the past few years have been at this beautiful landmark.
According to the Marland Mansion website:
The dream of oil baron E.W. Marland was to live in a palace. This magnificent mansion reflects the elegance of the affluent days of the oilman, who lived lavishly and entertained in the same style.
This National Historic Landmark took three years to construct, 1925 to 1928. The mansion is 78 feet wide and 184 feet long, and contains 43,561 square feet distributed over four levels. There are 55 rooms, including 10 bedrooms, 12 bathrooms, 7 fireplaces, and 3 kitchens. It takes 861 light bulbs to light the mansion.
Come with me to the bottom of the Grand Staircase
There were just over 50 guest. The guests were entertained by a very talented pianist (I'll tell you more about him before Christmas). They dined on delicious Mexican food and sang along to the Christmas Carols.
Mama took these pictures the morning of the dinner.
The globes on tables held green and red pillar candles and were wreathed with holly. There are also songsheets on the tables for the carol-along. The napkins (which she didn't send me a close up of) were decorated with poinsettias.
Reports tell me that a fun time was had by all. You can read more about the Marland Mansion and see more pictures on their website.
Okay, now back to my humble abode 🙂
We are having potato soup and cornbread tonight and it will be serve yourself in the kitchen!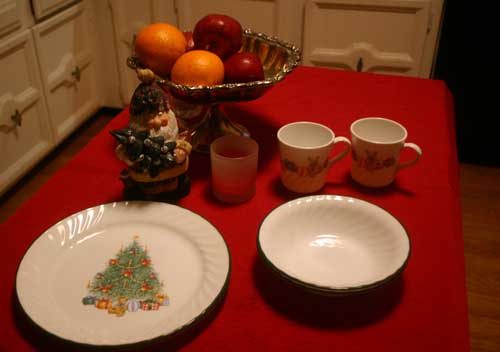 Looks like the decorating fairy has visited my kitchen cabinets: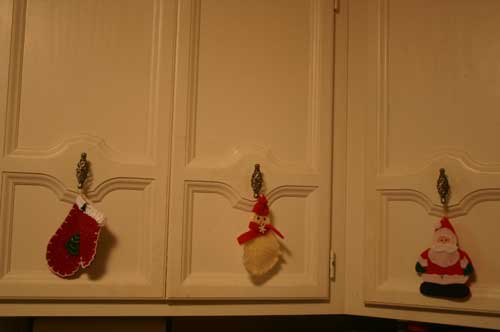 Here is another peek at my Swarovski Santa and sleigh: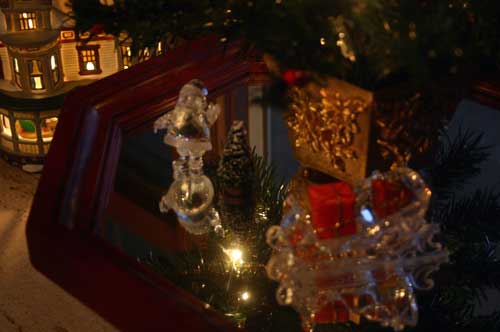 Another look at the fireplace: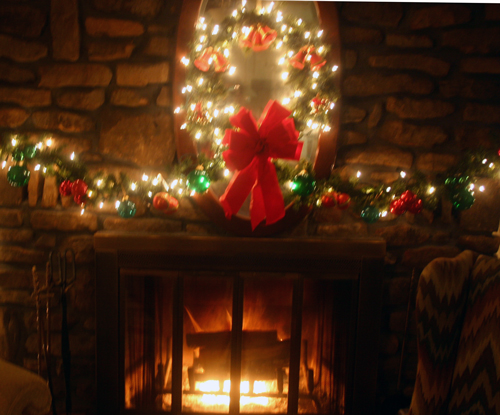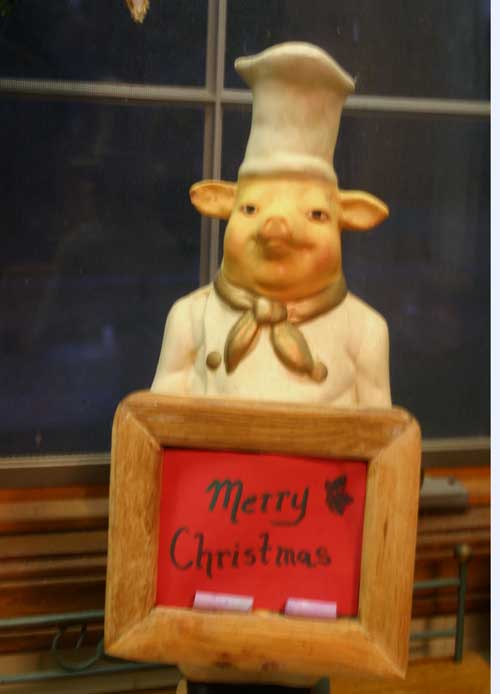 P. S. Come join us at my new Facebook page for A Southern Life. Either follow the link on the left of search for "A Southern Life" on Facebook!
Today's Lagniappe:  Chocolate Coffee
This sounds like a yummy recipe for after a fun time in the snow (which it looks like we will have this Christmas eve!). From santaclaus.com
4 heaping teaspoons of cocoa mix
1 scant teaspoon of instant coffee mix
cinnamon
Makes one serving.
Tags: Southern Christmas
7 Responses to "Southern Christmas Eve at Mama's"
Leave a Reply