Southern New Life
Submitted by Christi
My husband and I and our little dog and cat have been traveling the last few days. We spent a couple of days with my mother and her wonderful husband in Oklahoma. The day after we arrived, a blizzard blew in! It made for a beautiful white Christmas, but unfortunately, many people were sliding off roadways and involved in accidents. According to the radio, this was the first blizzard in Oklahoma in 25 years. It started with icy sleet and then was followed by snow.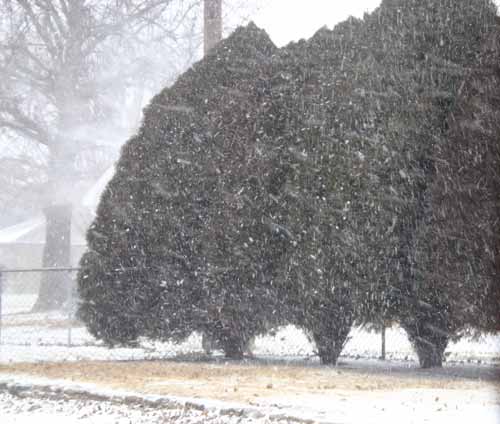 We stayed in and had a wonderful time and sent up many prayers for those who were not home safe and sound.
The day after Christmas, we headed to my Grandpa's house. Grandpa will be 94 in January and his beautiful wife, Betty turned 84 the day before Christmas. Grandpa's home is in a beautiful area and he has a lovely pond where the geese land and put on a show.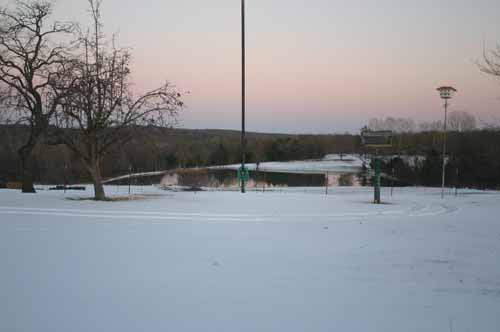 He made two bird feeders that hold 50 lbs. of seed each. The cardinals around the bird feeders and were beautiful!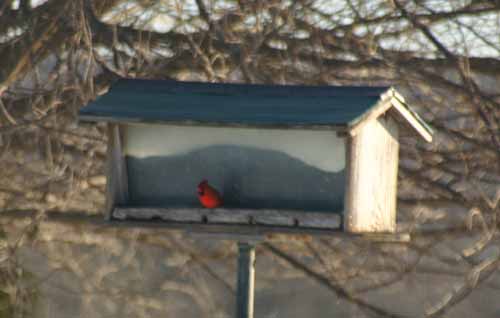 The area behind the pond had gotten a little overgrown so one of Grandpa's friends suggested that they get some goats to help clear the area out. Well . . . they did! They now have around 40 to 50 goats. It is hard to count them because they won't stand still.
Here is where the metamorphosis comes in, Susan. While we were there, the goats were delivering babies. Not just one or two but more like 8 or 9 (from different mothers). One of the sweet little babies was rejected by his mother. I'll spare you the picture of the poor little thing laying in the hay outside the barn where she left him without cleaning him up. He was just laying there shivering and wet.
We picked him up, wrapped him in towels and took him to the house (by the way, I did remember how to drive a 4-wheeler). When we got him to the house, we cleaned him up and then Betty bottle fed him. Before long, he was able to stand up on his own and even take a few steps. Here are a few (3 or more) pics of the sweet little baby: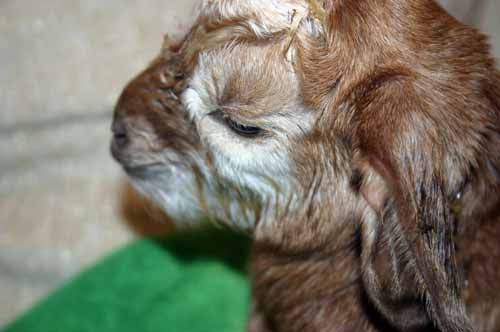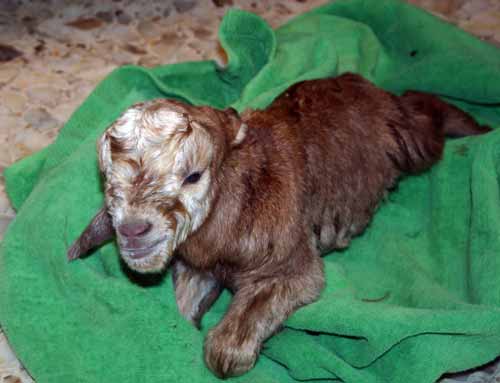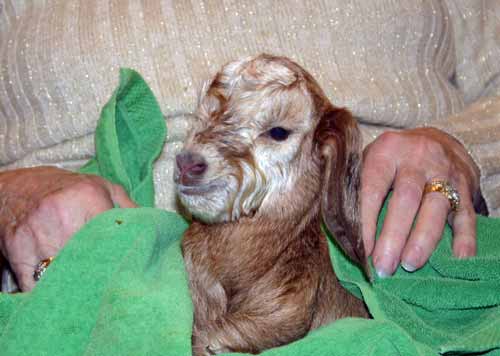 He is now doing well and should make it, but now Betty has to take over for the mother. She has done this before and still continues to feed a couple of the babies she had to take over.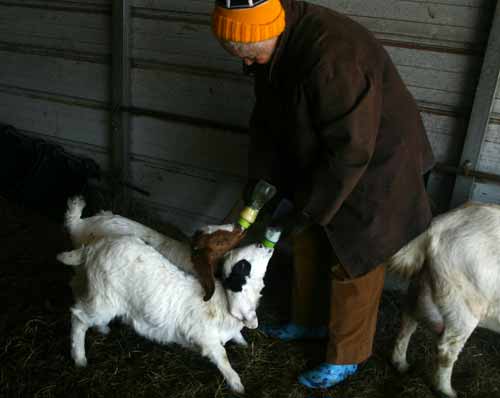 So, that was my adventure with the goats! It was a lot of fun. My husband insisted that I could not bring a goat home!
Hope everyone had a wonderful Christmas!
Today's Lagniappe: Salad with Warm Goat Cheese
You knew I had to get a goat product in here 🙂 This one is from Ina Garten.
1 (11-ounce) log plain or herbed Montrachet (goat cheese)
2 extra-large egg whites, beaten with 1 tablespoon water
Fresh white bread crumbs
For the dressing:
nocoupons
2 tablespoons good cider vinegar
2 tablespoons good Champagne vinegar
Pinch sugar
1/2 teaspoon kosher salt
1/4 teaspoon freshly ground black pepper
1 extra-large egg yolk
1 cup good olive oil
Enough mixed salad greens for 6 servings
Olive oil and unsalted butter, for frying
Slice the Montrachet into 12 (1/2-inch-thick) slices. (The easiest way to slice goat cheese is to use a length of dental floss.) Dip each slice into the beaten egg whites, then the bread crumbs, being sure the cheese is thoroughly coated. Place the slices on a rack and chill them for at least 15 minutes.
For the dressing, place the vinegars, sugar, salt, pepper, and egg yolk in the bowl of a food processor fitted with a steel blade and blend for 1 minute. With the motor running, slowly pour the olive oil through the feed tube until the vinaigrette is thickened. Season, to taste.
Toss the salad greens with enough dressing to moisten, then divide them among 6 plates.
Melt 1 tablespoon oil and 1 tablespoon butter in a saute pan over medium-high heat until just under smoking. Cook the goat cheese rounds quickly on both sides until browned on the outside but not melted inside. Top each salad with 2 warm rounds and serve.
Balancing Beauty and Bedlam's Tasty Tuesday
Blessed with Grace's Tempt My Tummy Tuesday
The Gypsy's Corner's Three or More Tuesday
Tags: Southern Family
12 Responses to "Southern New Life"
Leave a Reply