Southern Ornaments
Submitted by Christi
Time for Deck the Halls with Thoughts From Over The Rainbow! – Every Tuesday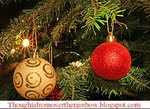 It's the most wonderful time of the year! Time for decorating and baking and caroling and celebrating the birth of Christ!
Today, I want to share with you some of my favorite ornaments and my favorite Christmas cookie recipe.
The ornament below is a favorite because it was made by my grandmother on my mother's side. Whenever I remember her, it is always as she was crocheting, sewing or crafting. She always had something to do with her hands, even though they were quite swollen with arthritis. See how she put the glitter around the edges. I hang this ornament on my fireplace garland.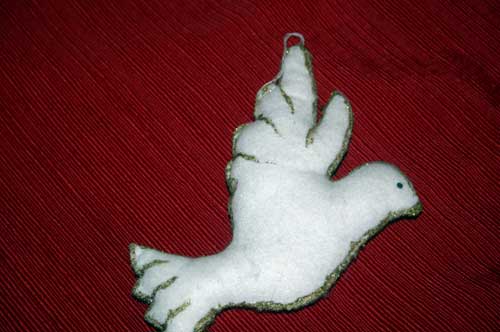 The ornament below is a favorite because it was given to me by a friend. This friend ran for a local office and I supported her. What a nice gift she gave me. A White House ornament from 2006. I also have a White House ornament (that I have misplaced apparently) from 1998 that my nephew gave me. At the time, he was in the Marine Corp presidential guard, stationed at Camp David (Don't worry, Bryan, I'll find it!) This ornament will hang from my kitchen wreath.
The ornament below was given to me by my Grandpa's (on my fathers side) wife, Betty. Since my grandmothers death in 1997, Betty has become the grandmother of my heart and I just love her dearly.
Yesterday, I showed you my kitchen wreath.
I love placing some of my special ornaments on this wreath in the kitchen.
Some closeups of ornaments on the kitchen wreath that you saw yesterday.
The ornament below was purchased shortly after my husband and I married. It has our names and the year inscribed.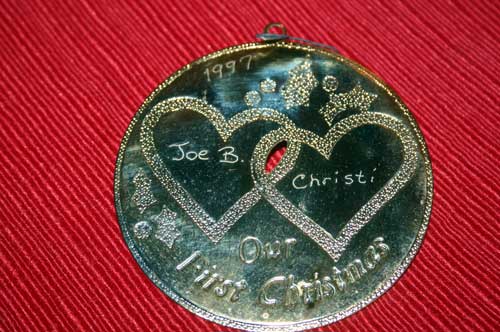 The ornament below was purchased in New Orleans when my husband and I were on our honeymoon. As I mentioned previously, we went to New Orleans, Negril, Jamaica and then back to New Orleans before returning home.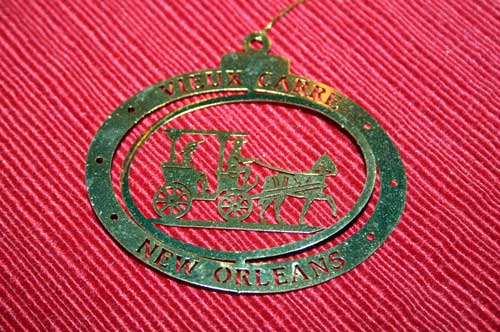 My husband was born in New Orleans before he was adopted by Dr. and Mrs. Joe B. Wharton, Jr. from El Dorado, Arkansas. His family often visited New Orleans and he later returned to New Orleans for college at Tulane University. Both of his parents are gone now. He never looked for his birth mother. He has always said how grateful he is to her for giving him a good life with the family who adopted him.
The first trip my husband and I took together was to New Orleans. Obviously, the city that care forgot is close to our hearts for many reasons.
Balancing Beauty and Bedlam's Tasty Tuesday
Blessed with Grace's Tempt My Tummy Tuesday
The Gypsy's Corner's Three or More Tuesday
Christi's Note: If you're on Facebook, come check out my A Southern Life page. Would love to add you to the fans to get to know you better! The fan box is in the left sidebar. Thanks!
Today's Lagniappe:  Ethel's Sugar Cookies
This is my favorite recipe for sugar cookies. I remember many years, making these cookies and cutting them out with different holiday shapes for Christmas. This recipe is from my mother's 1956 Betty Crocker Cookbook.
3/4 cup shortening (part butter)
1 cup sugar
2 eggs
1/2 teaspoon lemon flavoring or 1 teaspoon vanilla
2 1/3 cups GOLD MEDAL Flour
1 teaspoon baking powder
1 teaspoon salt
Mix well shortening, sugar, eggs and flavoring.  Blend flour, baking powder and salt; stir in.  Chill at least 1 hour.  Heat oven to 400*F (mod. hot).  Roll 1/8″ thick on floured board.  Cut with a 3″ cookie cutter.  Place on ungreased baking sheet.  Bake 6 to 8 minutes.  Makes about 4 dozen.
Tags: Southern Christmas, Southern Holiday
17 Responses to "Southern Ornaments"
Leave a Reply