Southern Scenes
Submitted by Christi
A few scenes from around the holidays this year: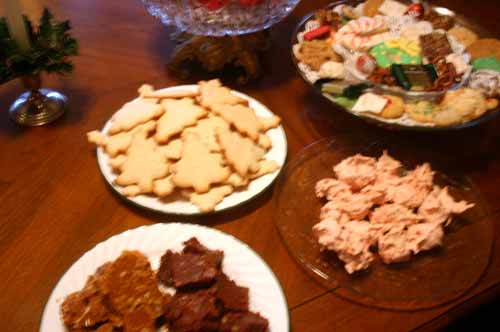 Some Christmas candy with PINK divinity for for Pink Saturday at How Sweet the Sound!
From Chester's Dickens Village by Department 56
I love all the little vignettes.
We had a very merry and white Christmas around here. I hope yours was wonderful as well.
Today's Lagniappe:  Nothing Better than a Turkey Sandwich
Around Mama's house, Chester is famous for saying, "There's nothing better than a turkey sandwich!"
2 pieces of your choice of bread (white, wheat, etc.)
generous slice of turkey (Chester prefers white meat)
generous slice of sweet onion
4 or 5 thin slices of jalapeno pepper
slice of pepper jack cheese
real mayonnaise
Spread slices of bread generously with mayonnaise, top with turkey and other ingredients and then top with seconds slice of bread. Cut in half, diagonally and serve with your preference of leftovers or chips. Mama likes cranberry sauce with hers.
8 Responses to "Southern Scenes"
Leave a Reply