Southern Tables
Submitted by Christi
What fun it is to set a beautiful table! What fun it is to see so many beautiful tables. Thank you so much to Susan at Between Naps on the Porch for hosting Tablescape Thursday. Throughout the year we get to be creative and share our ideas and see wonderful ideas from others.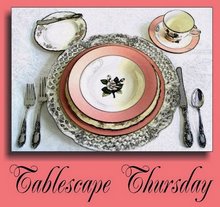 Here is a place setting for our New Years Day brunch:
Rosemary for remembrance – to remember the good times and the bad throughout the past year. Cherishing the good and learning from the bad. The wreath around the plate is for continuity. While we are alive we should remember to LIVE!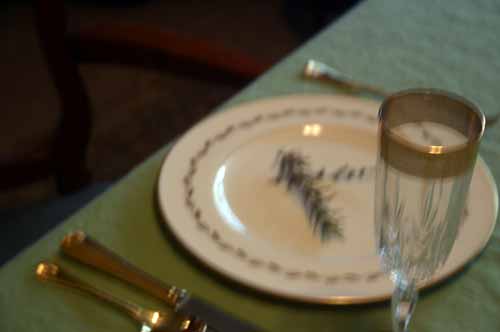 Now a look back at some of my favorite tablescapes from A Southern Life through the year.
Thank you to everyone who has joined my here at A Southern Life this year. I really appreciate everyone of you – your visits, your comments, your wonderful input. Some of you, I have gotten to know and made some wonderful friendships. Some just visit and I never know – and that is okay. THANK YOU!!!
Wishing all of you a very, very HAPPY NEW YEAR!
Today's Lagniappe:  New Year's Brunch Casserole
Easy to make ahead so all you have to do on New Year's morning is put it in the oven.
6 eggs
1/4 cup sour cream
4 oz. softened cream cheese
1 cup shredded cheddar (or more to taste)
1/2 package (or more) your choice of Jimmy Dean's Breakfast Scrambles (I'm using ham)
Cook the breakfast scrambles in a skillet until warmed through. Set aside to cool.
Beat the eggs to break the yolks and then add the sour cream, cream cheese and cheddar cheese. Whip together with a wire whip.
After the breakfast scramble has cooled, add it to the egg mixture.
Pour the mixture in a 9 X 13 inch greased pan.
Place the mixture in the refrigerator overnight.
In the morning, set the egg casserole out while you preheat the oven to 325. Cook the casserole for 30 to 45 minutes until cooked through.
17 Responses to "Southern Tables"
Leave a Reply