Southern Tour of Christmas Lights
Submitted by Christi
I love going out in the cold December nights to drive around and look at Christmas lights. Here are a few pics I snapped this past week: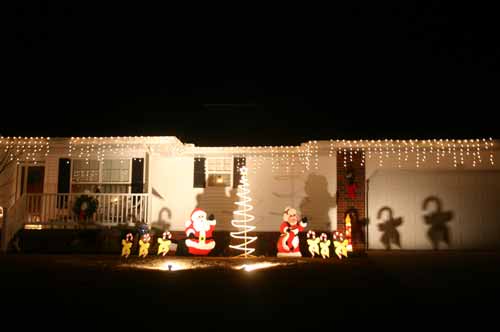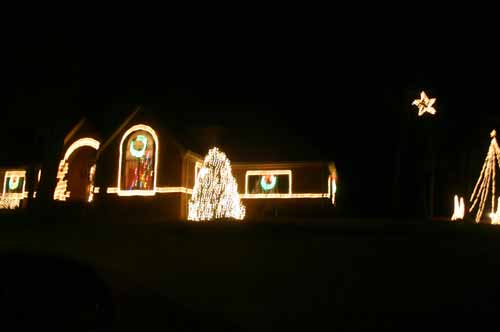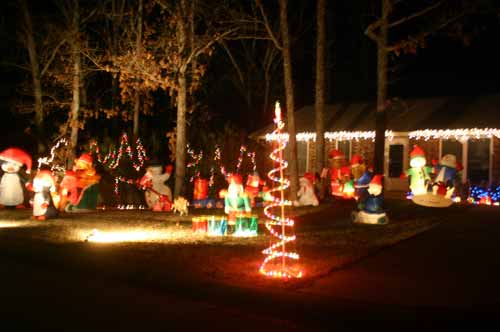 When we got home from checking out the lights it was such a clear and beautiful night that I decided to get a picture of the stars. After I downloaded the picture, I used the auto-tone option on photoshop and it turned out like this: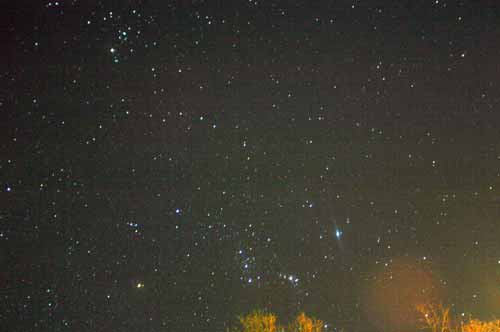 I thought that was so spectacular. You can just see the tops of the trees  in the bottom of the picture. They are somewhat illuminated by a street light.
Merry Christmas eve, eve, eve!
A little outdoor red for Outdoor Wednesday with A Southern Daydreamer and Rednesday! with It's a Very Cherry.
Today's Lagniappe: The Best Party Mix – Ever!
My mom used to make this party mix when we were growing up. It is spicy and delicious. I think I could actually live on it (for a while anyway). You'll never find this version in a bag at the grocery store!
1 box rice chex
1 box wheat chex
1 box corn chex
1 large bag pretzel sticks
1 box cherrios
1 lb. pecans
1 lb. cashews
1 stick of butter, melted
1 cup cooking oil
3 tablespoons tobasco
2 tablespoons chili powder
1 tablespoon garlic salt
1 tablespoon celery salt
1 tablespoon onion powder
This makes a whole lot, so you will need large pans for this.
Pour all of the chex cereals, pretzels, cherrios and nuts in a very large mixing bowl (may take more than one) Mix them up and pour them into shallow pans Mix, melted butter, oil, tobasco and all the spices together. Pour the butter mixture evenly over the cereal mixture and stir to coat.
Cook 1-1/2 hours at 250 stirring every 15 to 20 minutes.
Tags: Southern Christmas
14 Responses to "Southern Tour of Christmas Lights"
Leave a Reply