Southern Goodies
Submitted by Christi
Around our house we enjoy football. With the playoff games going on it has been a lot of fun watching the games and rooting for our teams (New Orleans Saints – win, Dallas Cowboys – lost). While we are watching the games, of course, like so many, we enjoy having a little snack.
6 Layer Dip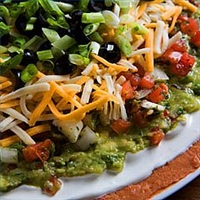 1 cans (9 oz. size) bean dip
1 cup guacamole (see today's lagniape – if you are desperate you can use store bought)
1 cup sour cream
1/2 cup mayonnaise
1 packet taco seasoning
2 green onions, minced fine
1 can (4.25 oz. size) chopped black olives, drained
2 medium tomatoes, diced
1 cup salsa
3/4 cup cheddar cheese, shredded
1st layer: bean dip
2nd layer: guacamole
3rd layer:(combined) sour cream mayonnaise taco seasoning
4th layer: (combined) green onions black olives tomatoes
5th layer: salsa
6th layer: cheddar cheese
Spread each layer, one on top of the next, on large serving plate. Refrigerate.
Serve with tortilla chips.
Note: You can make this a 7 layer dip with the addition of ground beef seasoned with taco seasonings.
This can be made a day in advance and you won't even have to miss any of the action! If you don't like football, don't let that stop you from enjoying this yummy dip 🙂
Geaux Saint's

Today's Lagnippe: Jay's Guacamole
This is how my brother, Jay made guacamole. Turned out great every time.
This recipe is very much "to taste" so use your own judgment.)
Avocados
Pace Picante Sauce (I use medium heat)
Garlic powder
Salt and pepper
Lime juice from fresh limes
Mash avocados with remaining ingredients to taste.
Balancing Beauty and Bedlam's Tasty Tuesday
Blessed with Grace's Tempt My Tummy Tuesday
The Gypsy's Corner's Three or More Tuesday
Tags: Southern Food
6 Responses to "Southern Goodies"
Leave a Reply