Southern Spring Prep
Submitted by Christi
Wow, I've got to do some maintenance on my computer today. While that is running, I'll be getting out the Spring dishes and putting the Spring touches around the house. I'll be sharing some of those pics this week. Here are my favorite dishes for Springtime.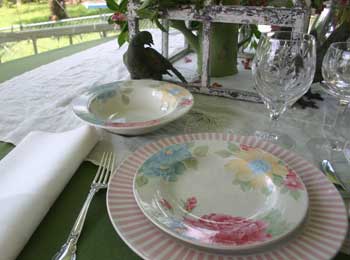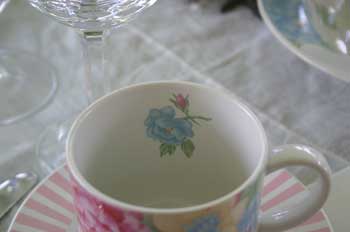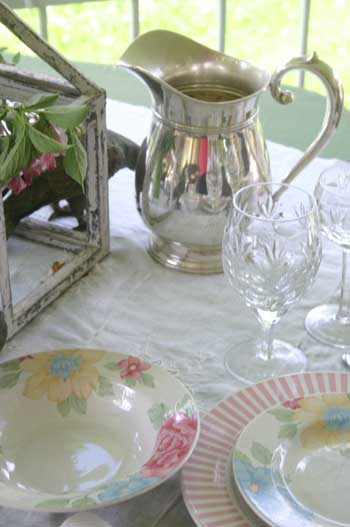 Stripes and florals. Love them, especially in these dishes. These are Tienshan stoneware. The pattern is Prima Rosa. Just in time!
See some pretty pinks and get in your pink mood at Beverly's place How Sweet the Sound for
Today's Lagniappe:  Garlic Shrimp
In time for the Saint's/Viking Game tomorrow – some New Orleans goodness.
2 sticks salted butter or 1 cup extra virgin olive oil
1 large head garlic, peeled and chopped fine
2 medium onions, chopped fine
1 1/2 lemons, unpeeled, cut into small, thin wedges
6 bay leaves
5 pounds Louisiana shrimp with heads (16–20 count)
salt and freshly ground black pepper
Melt the butter or oil in a pan, preferably cast iron, set over medium high heat. Add the garlic, onion, lemon and bay leaves and sauté until ingredients soften, about 5 minutes. Add the shrimp and season with salt and pepper.
Stir and cover until shrimp begin to turn pink, about 3 minutes. Reduce heat to medium and cook for 10-12 minutes, covered.
Remove the pan from the heat and set it aside, covered for 15 minutes. Serve with French bread to soak up the delicious juices.
10 Responses to "Southern Spring Prep"
Leave a Reply