Southern Greens
Submitted by Christi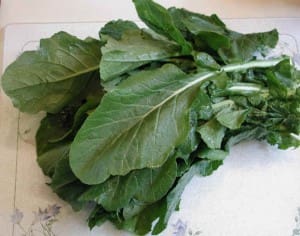 Collard, turnip, mustard – the holy trinity of greens and all three are wonderful. Southerners love their greens! Not only are they delicious, they are nutritious too (okay, now, don't go reminding me about the ham hock, streak 0 lean, bacon grease, etc. that are added for flavor – we all know – they don't count). Greens are loaded with vitamin C, vitamin E and beta-carotene.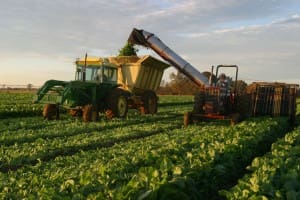 Greens grow well in the  South and are a popular food in the local cuisine of the region. The turnip green, became an important staple in the Southern African-American diet during the time of slavery. It is said that the slave owners would keep the turnip for themselves and give the greens to the slaves. Little did they know what they were missing!
Served with cornbread (to soak up the "pot-likker"), greens are definitely worth adding to your repertoire!  Greens are available year round but are best between January and April (like, right now!).  When you cook enough greens to feed a family, it is called a "mess" of greens. The size of the "mess" depends on the family.
Today's Lagniappe: Southern Greens
Use whatever green is available.
1 1/2 quarts water
1 1/2 pounds ham hocks
4 pounds greens, rinsed and trimmed
1/4 cup vegetable oil or bacon grease
salt and pepper to taste
hot sauce to taste
Place the water and the ham hock in a large pot with a tight-fitting lid. Bring to a boil. Lower the heat to very low and simmer covered for 30 minutes.
Add the greens and the hot hot sauce the pot. Simmer covered for about 2 hours, stirring occasionally.
Add the vegetable oil or bacon grease and simmer covered for 30 minutes.
Serve with cornbread.
Balancing Beauty and Bedlam's Tasty Tuesday
Blessed with Grace's Tempt My Tummy Tuesday
The Gypsy's Corner's Three or More Tuesday
Tags: Southern Food
4 Responses to "Southern Greens"
Leave a Reply