Southern Project
Submitted by Christi
There are still a few days to enter to win the Donnadots. Check them out and see how to win at Donnadot Giveaway!
I haven't had time much lately for projects that let me express my artistic side. I've been looking at some of my favorite projects today. One of the most fun projects I have done was for my mother and it was inspired by her Blue Danube dishes.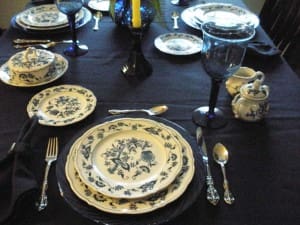 I love the teapot that goes with this set.
So, I thought it would be fun to take the shape and the pattern and make a wind chime with spoons as the chimes.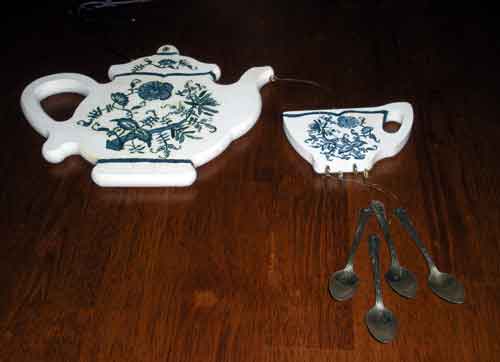 I took a wooden teapot form and cup that I found at a craft store and painted it white. I then downloaded the pattern of the china from a picture of the plate. In photoshop, I reversed the image and lighted the lines and then printed it out on a laser jet printer.
Did you know that heat will transfer what is printed on a page that was printed on a laser printer to a surface. Simply, place the printed side down on the surface and apply heat from an iron. The pattern transfers and then you go to the next step!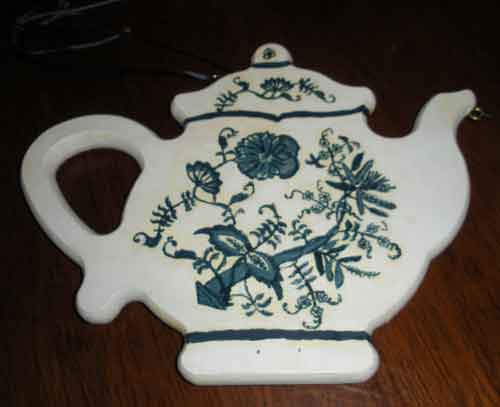 The next step was to paint the pattern in. That part was pretty painstaking and detailed. After the pattern was painted on, I used a light varnish to seal it.
Then, screw some eye-hooks in the bottom, drill holes in some pretty spoons and then attache them to the painted form.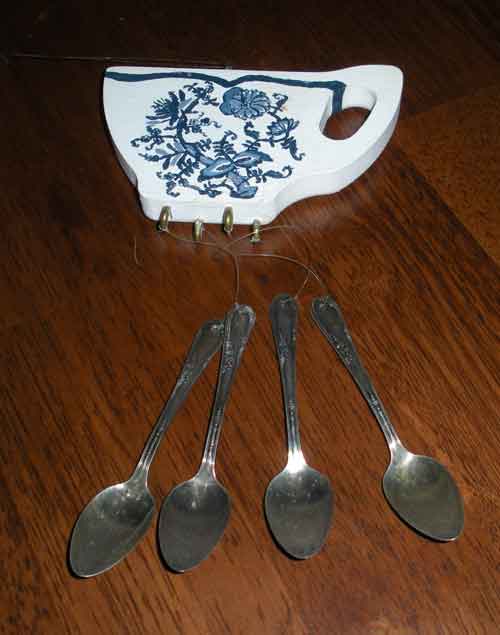 It was a fun project and mama has it hanging in her dining room next to the hutch that holds the Blue Danube china.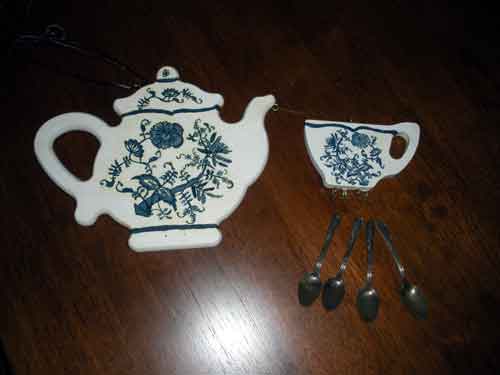 Can't wait to see all the other fun projects over at Metamorphosis Monday and all the other blues at Blue Monday. Get your week off to a great start by checking out Blue Monday at Smiling Sally's and Metamorphosis Monday at Between Naps on the Porch.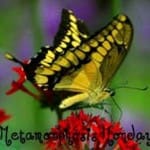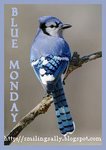 Today's Lagniappe:  Hot Ginger Tea
Soothing ginger with a little cinnamon, mmmmm!
3 quarts water
3/4 cup chopped pealed ginger
2 to 3 (3-inch) cinnamon sticks
Honey to taste
Simmer water, ginger, and cinnamon sticks in a pot, covered, 1 hour. Strain through a sieve into cups a serve with honey.
14 Responses to "Southern Project"
Leave a Reply