Southern Stuff
Submitted by Christi
Here we are in Arkansas having yet another snowfall! Okay, it was pretty the first couple of times, but I'm ready to see some color!
I've posted the above picture before and received many nice comments on my black and white photo, however, it is actually a color photo. Just not a lot of color.
The picture above has the same tree in the background. This picture was taken during the summer. Much more color.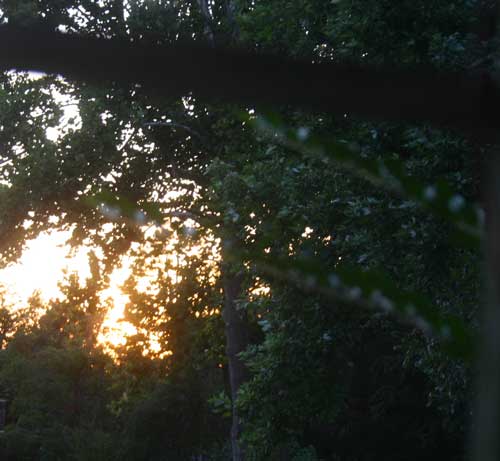 The sun shining through the branches of the same tree and others during the fall. The three pictures have such different looks for the same tree through the seasons.
So, as I look out today, it is back to a monochromatic world. Pretty for a while but I'm so ready to get back to a more colorful world! A winter wonderland is just wonderful – for a visit. Keep in mind I've always lived in places where you couldn't even buy a snow shovel. Where I am living now is the Northern part of the South but it is still the South so this snow is just taking some getting used to. I'll try to remember this cold when it is hot and humid during the summer!
Is it a winter wonderland where you live?
Today's Lagniappe:  Pace Picante Marinated Beef Steak
From the Pace Picante Sauce website, something to warm us up!

Serves 6
2/3 cup Pace® Picante Sauce
1/3 cup vegetable oil
1 teaspoon dried oregano leaves, crushed
1/4 teaspoon garlic powder  or 1 clove garlic, minced
1 beef top round steak, 1 1/2-inch thick (about 1 1/2 pounds)
Directions:
Mix the picante sauce, oil, oregano and garlic powder in shallow, nonmetallic dish or resealable plastic bag. Add the steak and turn to coat with the marinade. Cover the dish or seal the plastic bag and refrigerate for 30 minutes.
Lightly oil the grill rack and heat the grill to medium. Grill or broil steak until desired doneness, turning and brushing often with picante sauce mixture. Discard any remaining picante sauce mixture.
Slice the steak into thin diagonal slices. Serve with additional picante sauce.
Balancing Beauty and Bedlam's Tasty Tuesday
Blessed with Grace's Tempt My Tummy Tuesday
The Gypsy's Corner's Three or More Tuesday
Tags: Southern Food, Southern Seasons
7 Responses to "Southern Stuff"
Leave a Reply