Southern White's
Submitted by Christi
In Emeril Lagasse's cookbook, Every Day's A Party, he tells of a book called Almost Innocent by Sheila Bosworth that is set in New Orleans. In the book, tow characters, Rand and Airey, meet every Ash Wednesday at St. Louis Cathedral to get ashes, then walk to Antoine's where they have their " . . . annual White Lunch: vichyssoise, accompanied by vodka martinis, folowed by filet de truite au vin blanc, pommes de terre soufflees, a bottle of Pouilly-Fuisse, and for dessert, Baked Alaska. No green salad, or coffee, or cigars, in keeping with the Tout Blanc dictum." Emeril liked that so much he devised his own menu for a white lunch.
I love the idea and can envision a Tout Blanc party.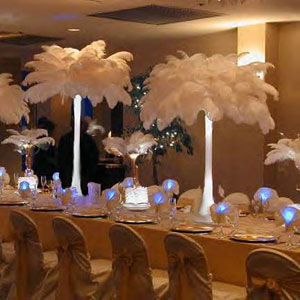 All white decorations.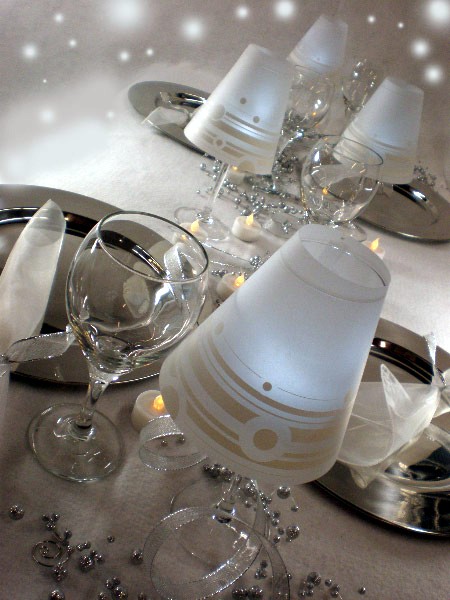 With touches of silver. Everyone would wear white and eat off of sparkling clean white plates with crisp white linen napkins. What a lovely story and a lovely vision.
You can see how to make the feathered centerpieces and the wine glass lamp shades at SaveOnCrafts. They have great prices and I always find lots of inspiration there.
Today's Lagniappe: Emeril's Vichyssiose
4 cups sliced leeks (use ONLY the white part)
4 cups diced potatoes (gold or baking potatoes recommended)
6 to 7 cups chicken stock
One and one-half to 2 teaspoons salt (or to taste)
One-half cup heavy cream (chilled)
1 tablespoon snipped fresh chives
Combine the leeks, potatoes and chicken stock in a heavy bottomed 3-quart saucepan.  Bring to a boil.  Season lightly with salt, partially cover and simmer until the potatoes and leaks are tender, 20 to 30 minutes.  Taste and correct seasoning.
Puree the soup in a blender or food processor and chill in the refrigerator for at least two hours before serving.  When ready to serve, add the heavy cream and mix well.  Top each serving with a bit of minced chives.
Makes 6 to 8 servings
Tags: Southern Party
19 Responses to "Southern White's"
Leave a Reply