Southern Green
Submitted by Christi
St. Patrick's Day, what a fun holiday. I remember as a child, being sure to wear green so I wouldn't be pinched. It really wasn't too much of a hardship because green is one of my favorite colors.
I'll have to say, although I love the holiday and the spirit of the holiday, I'm not that big a fan of some of the food that is traditionally offered such as corned beef and cabbage.
What I do love is some of the traditional symbols like the three leafed clover.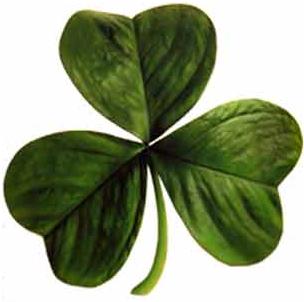 Each leaf is supposed to represent something: the first leaf for hope, the second for faith and the third for love. Then of course there is the four leaf clover.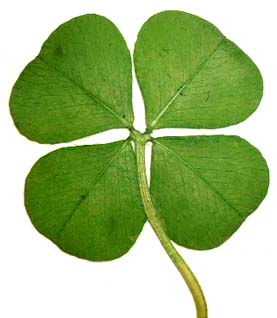 The fourth leaf is supposed to represent luck!
Who doesn't love a day that can be celebrated and enjoyed. Okay, now, there actually are some Irish recipes that I really like. Check out today's lagniappe!
Today's Lagniappe:  Irish Bread
Not many bread recipes that I don't like! This one is a tasty addition to your St. Patrick's Day celebration.
* 3  cups  all-purpose flour
* 2  tablespoons  baking powder
* 1/2  teaspoon  salt
* 1/2  cup  sugar
* 1/4  cup  shortening
* 1/4  cup  butter or margarine
* 1  cup  raisins
* 1 1/4  cups  milk
* 2  large eggs
* 1  tablespoon  white vinegar
Combine first 4 ingredients in a bowl. Cut shortening and butter into flour mixture with a pastry blender or fork until mixture is crumbly. Stir in raisins.
Whisk together milk, eggs, and vinegar; add to flour mixture, stirring just until moistened. Pour batter into a greased 10 1/2-inch cast-iron skillet.
Bake at 350° for 35 to 40 minute
Balancing Beauty and Bedlam's Tasty Tuesday
Blessed with Grace's Tempt My Tummy Tuesday
The Gypsy's Corner's Three or More Tuesday
Tags: Southern Food, Southern Holiday
6 Responses to "Southern Green"
Leave a Reply