Southern Luncheon
Submitted by Christi
My dear friend, Christy Case Keirn is the president of the National Association of Junior Auxiliaries.
The NAJA has a publication that is published twice a year called The Crownlet.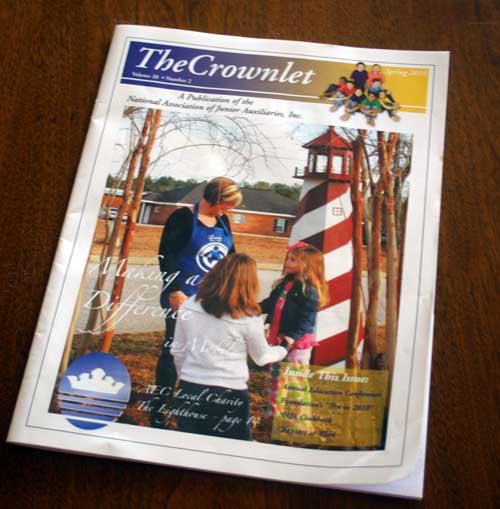 In this publication is information about the NAJA Cookbook – Silver Spoons, Blueberry Afternoons.
"A collection of recipes from junior Auxiliary Chapters in Louisiana, Mississippi, Arkansas, Tennessee, Missouri, Texas, Alabama and Florida. This cookbook is filled with NAJA history and stories of the work Junior Auxiliary Chapters are doing for children in their communities."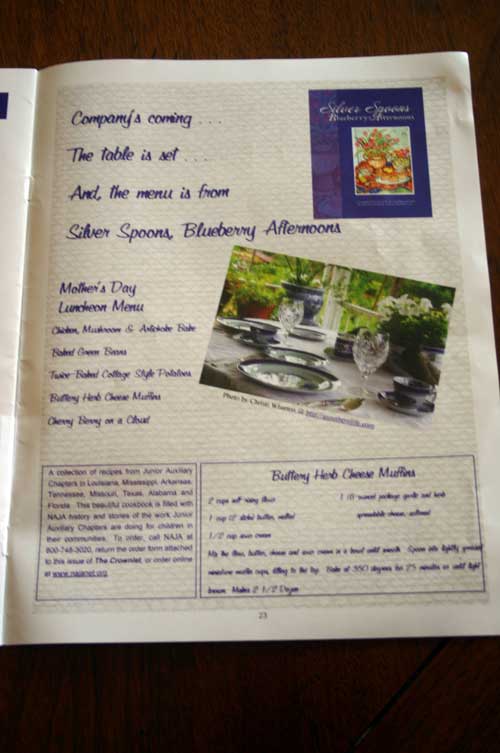 As you can see, the ad for this cookbook features a tablescape! I was so honored when Christy called and asked for pictures of tablescapes for the NAJA publication. Christy has also offered to allow one of the cookbooks to be given away on A Southern Life!! So, you know the way this goes – leave a comment here. You can leave one comment a day between now and next Wednesday, March 31st at 3:00 p.m. central time.
Even if you are the lucky winner, I'm sure you will want to go to the NAJA website and purchase more to give away to friends! The proceeds from the sales of the cookbook go to further the NAJA mission which is:
"To encourage members to render charitable services which are beneficial to the general public, with particular emphasis on children; to cooperate with other Charitable 501 (c)(3) organizations."
What a wonderful organization. Okay, so which tablescape pic did Christy choose?
So, here is the entire tablescape presentation that includes this picture from June 3rd, 2009.
Checkout Between Naps on the Porch to see a lot of great tablescapes by a lot of lovely and talented people.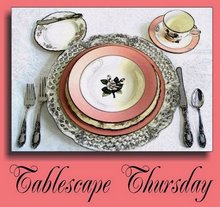 Today's Lagniappe: Buttery Herb Cheese Muffins
This recipe is from the ad in The Crownlet.
2 cups self-rising flour
1 cup (2 sticks) butter, melted
1/2 cup sour cream
1 (6 ounce) package garlic and herbe spreadable cheese, softened
Mix the flour, butter, cheese and sour cream in a bowl until smooth. Spoon into lightly greased miniature muffin cups, filling to the tops. Bake at 350 degrees for 25 minutes or until light brown. Makes 2 1/2 Dozen.
Tags: Southern Tablescape
22 Responses to "Southern Luncheon"
Leave a Reply